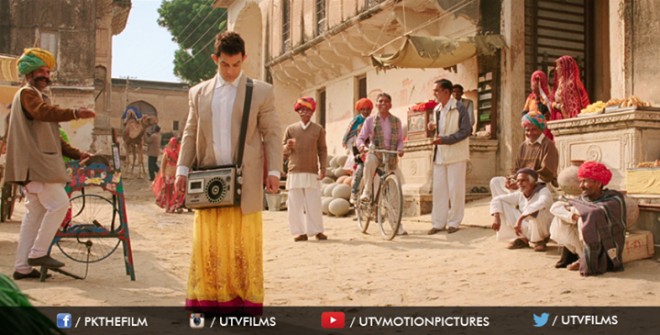 IBTimes India Rating: 4.5
Rajkumar Hirani's masterpiece "PK" comes at a time when the world is busy questioning religion and if it is even remotely humane to put innocent souls to rest in the name of God. While some might find it similar to Akshay Kumar's "OMG: Oh My God", this comedy-drama is sure to leave a stronger impact.
More often than not, films dealing with something as sensitive as religion end up in a lot of soup, but Hirani intelligently takes the controversial subject and treats it with utmost care using truckloads of unparallelled wit and harmless humour. It's a film that will stay with you longer than coming-of-age "3 Idiots" has. With not one dull moment, Hirani proves yet again that a delicate subject can be handled in manners, which are unique keeping blunt approaches at bay.
Aamir Khan, the curious stranded alien PK, is on a quest to locate a lost gadget that's supposed to help him board the spaceship. Jagat Janani (Anushka Sharma), plays the friend in need to him while looking for an interesting story to tell.
Sushant Singh Rajput's Sarfaraz Yusuf is very sketchy, but also important as he acts as the catalyst of the narrative, which propels the script. Sanjay Dutt and Boman Irani in their teeny tiny but crucial roles uphold the storyline.
Abhijat Joshi and Hirani's screenplay is as crisp as it can get. While the protagonist prods the society's belief system and age-old notions in the most honest, child-like way, the script never offers complete answers to his questions. The viewers, are instead, left with a pile of hows and whys for which they will eventually get solutions to but only by going into an auto-critique mode.
Mr. Perfectionist comes with a beautifully crafted story with a gripping first half but dramatised climax. The songs, mostly situational, fit in well but fail to hit the right chord. However, this doesn't take away the awesomeness this satire has brought to the silver screens.
In a nutshell, "PK" stands out despite the flaws it comes with and will definitely be one of the best views in years to come.