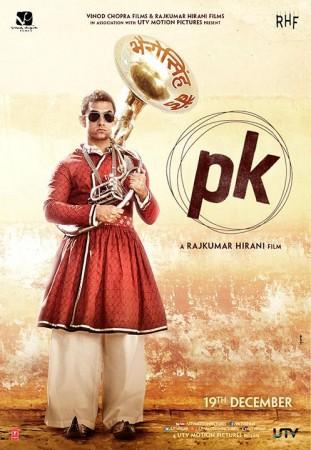 Rajkumar Hirani's directorial film "PK" has got excellent reviews from Bollywood celebrities. A special screening of the movie, which features Aamir Khan, Anushka Shetty, Sanjay Dutt and Sushant Singh Rajput, was organised on Tuesday by the makers of the film.
The special screening was attended by cricketer Sachin Tendulkar, "Swadesh" actress Gayatri Joshi, Raj Thackeray and his family and "Kick" director Sajid Nadiadwala among others.
Celebs who watched the film gave rave reviews calling it Aamir and Hirani's best work till date.
Here is what celebs have said about the film.
Divya Dutta: Salutes raju hirani..u made me smile, u made me laugh n u made me cry n u got me thinking!!! #pk . Ur the best!!!!!
Sona Mahapatra: The brilliant,brave,visionary & wicked Raju Hirani strikes out & how! A salute to Abhijat Joshi & Vidhu V Chopra 2.Aamir Khan's BEST,yet. PK
Sachin Tendulkar: "The film is superb. I have promised Aamir so I won't disclose much about the story. But I would like to say that all of you please go and watch this film as it is completely different. For me it's the best film and best performance of Aamir that I have ever seen."
"His role in the film is completely different. It is completely out-of-the box film with a very strong message. It is a must watch film. Without any doubt it is his best performance.
Dia Mirza: #PK could not have been better timed.This film i hope redefines the 'MINDSCAPE' of #India. @RajkumarHirani @AnushkaSharma @aamir_khan
"@freak4all: @deespeak dee - nothing for Sanjay Dutt?" Oh YES! Our Munna Bhai in a new avatar :) #HeartOfGold @duttsanjay"
Resul Pookutty: #PK is going to be the biggest film ever and best performance ever by our own pride @aamir_khan. And at the most disturbing time like this nobody should miss what #PK has to say. Brilliantly portrayed by @aamir_khan
Avinash Gowariker: Saw #PK ! @aamir_khan its your best performance till date! @AnushkaSharma you are too cool! & @RajkumarHirani you are a Master! Take a bow!
Karan Johar: PK yet again proves that Rajkumar Hirani is the best director of our country...it's undoubtedly Aamir Khans best performance to date....#PK
Neil Nitin Mukesh: Watched the screening of PK. An outstanding film!!! Aamir khan is an institute. Simply loved him. Bigger fan of Rajkumar Hirani after this. Mr Vidhu Vinod chopra take a bow for being an impeccable producer. #Respect
Kunal Kohli: #PK is Abhijat Joshi,Vinod Chopra Raju Hirani @aamir_khan BEST FILM. Outstanding.Blockbuster.An experience to be relived again & again
Sonam Kapoor: Overwhelmed by the film that is PK what a movie.. Thank you so much #rajuhirani for it! Everyone has to watch this film!!! No one but @aamir_khan could have done pk !!you made me cry and laugh out aloud innumerable times. Anything that I say is less.
Mahie Gill: Everything about @PKTheFilm works! It's rare to see a film dat bounces between humour & sentiment so seamlessly. Luv @aamir_khan
Atul Kulkarni: PK. Bravo! An entertaining statement which requires guts to make and open mind to see. Laugh at yourselves and the others ; think for all:)
Yuvraj Singh: So watched#pk last night Outstanding performances by @aamir_khan @AnushkaSharma sanjay dutt go watch u will love it

Watch Sachin Tendulkar's press conference video below: