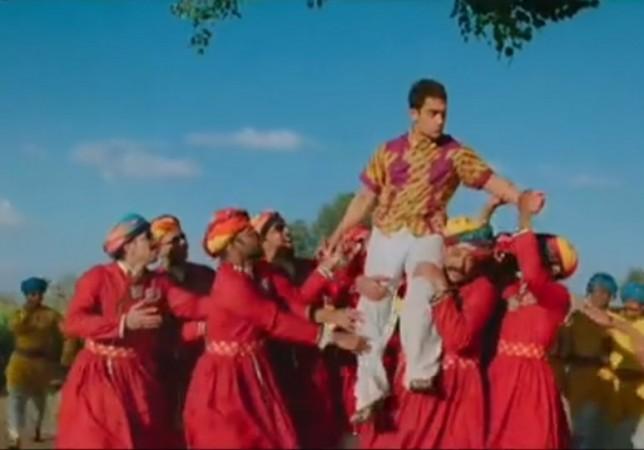 The first song of Rajkumar Hirani's upcoming "PK", "Tharki Chokro", featuring Aamir Khan and Sanjay Dutt, has received overwhelming response from the viewers within three days of release.
"Tharki Chokro" is a humourous track with Rajasthani music and funny lyrics. Ajay and Atul have composed music for the song, while Swanand Kirkire has penned the lyrics and Swaroop Khan has crooned the song. The music video has been viewed by 6.41 lakh people on YouTube and has got 3,540 thumbs-up, 760 thumbs-down and 720 comments.
The track has been shot in Rajasthan. Most of the people, who watched the music video of "Tharki Chokro", have been impressed with its picturisation, music and lyrics. The song seems to have soared up expectations about the movie.
After watching the music video of "Tharki Chokro", many viewers have expressed their opinions on the song.
Read some of the comments from viewers below:
Surya Sai Chinnu
This song raised my expectations too much, waiting for the film especially for Aamir and Rajkumar Hirani.
Vivek Chandra
Nice song. Sanjay Dutt acts funny. Eagerly waiting for this due to Raju Hirani, Aamir and Sanjay in same film. Not able to fully guess the plot but looks like K-PAX due to "Aamir is alien" rumor floating in air.
Galaxy S3
It would be fun to watch this movie ....just made me more curious what the story is going to be ....looks awesome!! Can't wait! Sure this is sensible and logical movie with a humor ppl can't resist!
Tharindu Vishwanath
Okay when I was watching the song for the first time, tune started to get to me and just when I was craving to listen more, it ended. I am not an Indian but watch Hindi movies with my little Hindi knowledge. And I love the tune of this song. Singing is nice too. This movie is promising. 19th Dec, please come soon.
The song, which is meant for narration of the story, throws more light on the characters played by Aamir and Sanjay.
Soham Roy
In most of his films Mr Raju Hirani, uses songs to continue the narration of his story, sometimes when you isolate them from the film, it might not seem to be that meaningful or melodious, I would like to wait for the film to release and find out how the song was used."
Rajeev Sharma
Looking something new... I guess the plot will be really funny with emotional touch at end..
The audience seems to have fallen in love with the Rajasthani music used in the song.
Amrita Rumaila
Okayy song. Rajasthani beats are ever thumping so.. not great but suna toh ja hi sakta hai. Hirani ki films waise bhi kamjor hi hoti hain music wise toh. But Aamir is looking shockingly young in this movie. A pleasant site nonetheless."
Pankaj Bhanot
Amir khan versatile Actor song is also good showing real khushbu of rajasthani folk music.....amir khan and Sanjay dutt both going to rock.
Azad Jain
Nice Song of PK Film. It is always great pleasure to hear Rajasthani Music, If anything is missing in this song then it is Ravanhatta and Kamaicha Musical Instruments(very old Rajasthani musical Instrument), If the Music Composer did add this Instruments too in this Song then it did give more Rajasthani charm to this song. They must use some old Musical Instruments of Rajasthan. Waiting eagerly to Watch this Film :)
Aamir Khan's new look and funny expressions are also among the factors that has impressed the viewers.
Rocky 2015
Aamir's expression is much more watchable and the walking style is just amazing..........
Aqua Depth
Oye yaar kaun kahega ki ye aamir 49 age ka hai... kaunsa makeup , kya diet leta hai.. ye to pehle se aur bhi zyada young lag raha hai... he is looking cute... i hope is movie se ek naya character famous hoga....
The viewers have loved the fun quotient featured in the song.
Kaiser Khan
Funky fun song.. :) waiting for another great raju hirani show..
Potter
Raju and the cast has done an awesome job for sure... the song is catchy I am still sing "Chokro aayo re..." in my head... looking forward to see the whole movie.
Indian patron
Nice song tharki chokro. will add some flavour to the movie. i like it.