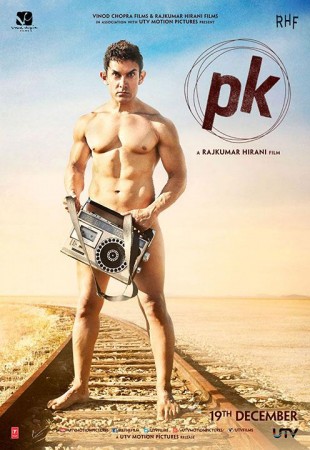 It's time to push past previous box office records and create new ones with the release of Aamir Khan's "PK".
Rajkumar Hirani's directorial comedy drama "PK" will release on Friday, 19 December. The film features Aamir, Anushka Sharma, Sanjay Dutt and Sushant Singh Rajput in pivotal roles.
"PK" is touted to be one of the biggest releases of this year, after Salman Khan's "Kick" and Shah Rukh Khan's "Happy New Year" (HNY). And with the release of Aamir's film, trade experts and fans are expecting that "PK" will break all previous records.
The film is releasing during Christmas and on Aamir's lucky date, 19 December. Aamir's "Dhoom 3" was released on the same date last year, and though it got mixed reviews from critics, the film shattered all the box office records.
This year also expectations are riding high on "PK" to repeat the success of "Dhoom 3". So, let us take a look at the records "PK" needs to break at the domestic box office.
Opening Day Record: SRK's "Happy New Year" has the record of earning the highest amount on opening day. With over ₹44 crore income on the day one "Happy New Year" broke "Dhoom 3" record of ₹36 crore. And now "PK" is expected to become the highest opener.
Highest Opening Weekend: "Happy New Year" again broke the record of "Dhoom 3" by earning more than the latter in the opening weekend. "HNY" earned ₹108.86 crore in opening weekend, which is the highest ever collection until now.
Fastest ₹200 crore Grosser: The fastest ₹200 crore grosser film at the domestic box office is "Dhoom 3". The action drama took nine days to earn ₹200 crore from Indian markets. But will "PK" earn ₹200 crore in less than nine days? Only time will tell.
Highest Grosser Record Worldwide: "Dhoom 3" holds the record of highest grossing film at the worldwide box office. The gross domestic as well as the overseas total of the film is more than ₹500 crore.
₹300 crore Club: Aamir's films released during Christmas have created records starting "Ghajini", which became the first ₹100 crore grossing film. "3 Idiots" was released during the same period, and it created ₹200 crore club and last year "Dhoom 3" created ₹250 crore club. So will "PK" create 300 crore club at the domestic box office?