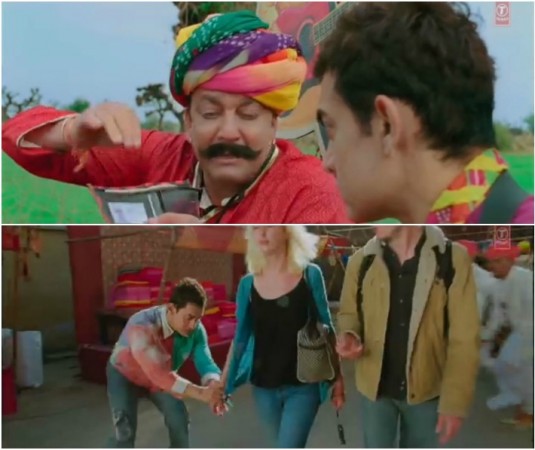 Bollywood superstar Aamir Khan, who is fondly called Mr Perfectionist, is known for his experimental movies and his role in Rajakumar Hirani's upcoming movie "PK" has created a lot of curiosity among Hindi films lovers across the globe.
Rumour mongers have been busy spreading speculations about Khan's character, ever since the first look of "PK" featuring him naked was released and his role was rumoured to be that of an alien. But the music video of its first song "Tharki Chokro" has offered a hint regarding his role. Some say that the actor appears as an amnesia patient in this much-talked about film.
At the very beginning of the video, when Khan touches Sanjay Dutt's hand, the latter says "Memory gayi" and shows him his identity card. But Khan, who seems to have lost his memory, runs away from him. He seems to have lost something and checks it in the wrist of every woman he comes across.
After watching the song, many film goers have guessed that Khan plays as an amnesia patient in "PK", while some continue to believe that he essays the role of an alien.
Prithvi Patil
Sanjay Dutt says 'Memory gayi' at the beginning of the song!! That kinda states that Aamir khan might have lost his memory and maybe become childish in the movie. So cannot be an alien - stupid rumor!!
Parvez Wani
Its memory lost not alien actually I think amir is showing sanjay tht if we forget difference between girl and boy we can treat thm equally.
Harsh Jain
Almost confirmed, Aamir Khan is an alien in the movie, searching for some kind of device on people's hands.
Sarah Khan
Especially the way when aamir is running is sooo funny ...he really looks awkward maybe like an alien.
Mandeep Baweja
Movie is like ghajini, but not memory loss, after amir's incident he becames mental patient!!!!
Mallika Singhai
HE IS NT AN ALIEN (100%) IN THIS MOVIE, he is suffering from "amnesia" listen again sanjay dutt says....memory gayi to aurat mard ka fark bhul gayo.
Watch the "Tharki Chokro" song below: