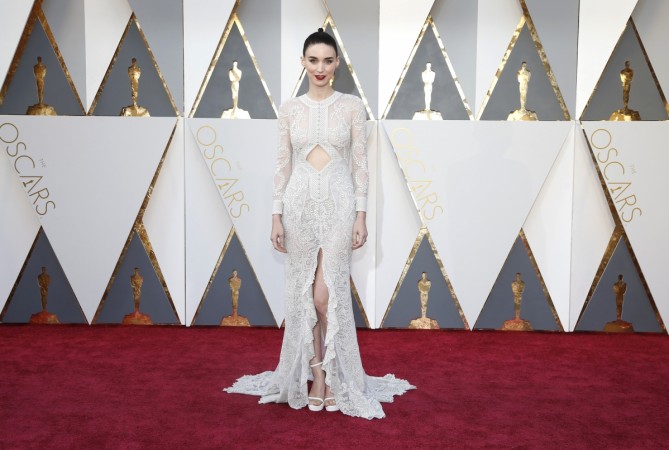 The Pirelli calendar is one of the most looked-forward to calendars each year with some of the most gorgeous looking women in the world stripping down. The 2017 edition of the renowned calendar has just been launched in Paris and it features some of the biggest Hollywood actresses.
Actresses Helen Mirren, Kate Winslet, Uma Thurman, Nicole Kidman, Jessica Chastain, Penelope Cruz, Lupita Nyong'o, Charlotte Rampling, Rooney Mara, Julianne Moore, Alicia Vikander, Lea Seydoux, Robin Wright and Zhang Ziyi are a part of the 2017 edition. The beautiful black and white portraits of these famous women have been shot by German photographer Peter Lindbergh.
Lindbergh told The Huffington Post UK, "The goal of the calendar is to show the real woman. Not to show the stretched and manipulated, emptied women you see in the magazines today." The 2017 calendar is titled 'Emotional' and 'is to rebel against the current climate and to "remind people of what beauty really is".
But the 2017 calendar has also dramtically moved away from its regular theme of women in knickers and going nude. These actresses have been stripped off - but not of their clothes, just their make-up! Lindberg told The Huffington Post UK that this was a stripping down of another kind. "It's another kind of naked. More important than body parts," he was quoted as saying.
Pirelli's new calendar may be a disappointment to men but it shows how the company is standing up for women and women's rights. Society always pressures women to look young and beautiful and this calendar portraits try to break those shackles. All the actresses look their age in these black and white photos which celebrate their age and natural beauty. There is no face or body retouching in these photos.
Peter Lindberg Reuters
It was in 2016 that Pirelli moved away from showcasing nude women in their calendar. The 2016 Pirelli calendar was shot by Annie Leibovitz. The calendar featured Yoko Ono, Patti Smith, Serena Williams, Amy Schumer, author Fran Lebowitz, writer Tavi Gevinson, Selma director Ava DuVernay, philanthropist Agnes Gund, producer Kathleen Kennedy, model and charity founder Natalia Vodianova, businesswoman Mellody Hobson, Iranian visual artist Shirin Neshat, and Chinese actress Yao Chen. The 2016 calendar did not feature nude women except for a semi-nide Amy Schumer and Serena Williams.
In a statement, Leibovitz said, "I started to think about the roles that women play, women who have achieved something. I wanted to make a classic set of portraits. I thought that the women should look strong but natural, and I decided to keep it a very simple exercise of shooting in the studio. This calendar is so completely different. It is a departure. The idea was not to have any pretense in these pictures and be very straightforward."