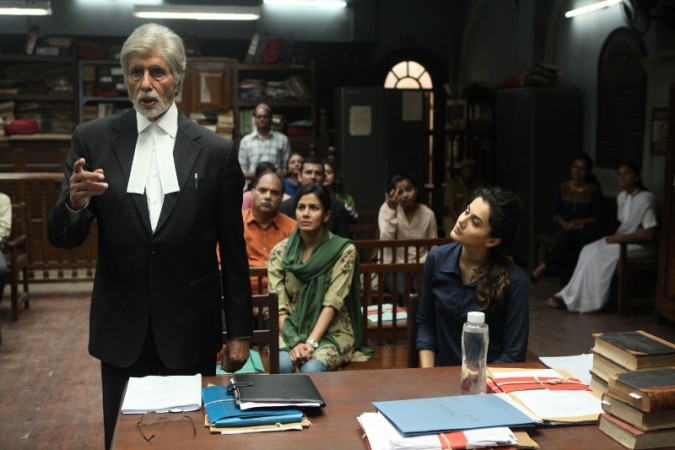 Rana Daggubati, Ayushmann Khurrana and other Bollywood celebs are all praises for Amitabh Bachchan, Taapsee Pannu, Kirti Kulhari, Andrea Tariang, Piyush Mishra, Angad Bedi, Shoojit Sircar for their performances in Hindi movie "Pink."
"Pink" is a courtroom drama-thriller film, which is about Miss Arora (Taapsee Pannu) and her two roommates (Kirti Kulhari and Andrea Tariang), who are molested by drunk friends. How lawyer Deepak (Amitabh Bachchan), who is suffering from bipolar disorder, fights these girls' case forms the crux of the story.
Rashmi Sharma and Shoojit Sircar, who have produced "Pink," held a special screening of the movie for Bollywood celebs at a multiplex in Mumbai on Sept. 10. The film has impressed many celebs and some of them took to their Twitter handles to share their verdict on the movie. They lauded the brilliant scripting and direction and wonderful performances by the lead actors in the flick.
The B-Town celebs say "Pink" is a good entertainer with a brilliant message to the society and it is a perfect movie for the current scenario in the country. Here are some celebs' comments on the film:
Rana Daggubati: Just saw an outstanding and by far the most important film for this country!! #Pink @SrBachchan Sir you are greatest!! @taapsee you were outstanding so so proud of you!! And a big bow to the entire cast of #Pink @ShoojitSircar thank you for bringing to us cinema like this!! #Pink
Ayushmann Khurrana: #Pink is the need of the hour. We needed this film to mirror the patriarchal double standard which engulfs our society. Come Fri, 16th Sept✌ Take a bow my mentor @ShoojitSircar da, @ronnielahiri da, Tony da, Sheel babu. Great casting Jogi paaji. #Pink .. @SrBachchan played this one dextrously with subtlety & sarcasm. @taapsee has truly arrived! Well played @Imangadbedi @kulharikirti Andrea
Abhishek Bachchan: Just saw #PINK ..... Speechless! One of the most powerful films I've ever seen. #PINK
Raj Kummar Rao: Moving,Powerful,hard hitting #Pink @SrBachchan sir nobody could hav played Deepak the way you've done it. So much to learn from U.Take a bow Congratulations @ShoojitSircar @ronnielahiri. @taapsee @kulharikirti @MrVijayVarma @Imangadbedi & team.. Awesome work guys. Rock solid From FTII classroom to #Pink #Nostalgic Kya Baat hai @MrVijayVarma. So proud of you and ur work. @ShoojitSircar
Kriti Sanon: Absolutely loved #Pink Real & super relevant!Questions the shameless mindset of our patriarchal society & hits the perfect note!a MUST WATCH So glad that films like #Pink r being made! Amazing performances, relevant content & so well paced. @ShoojitSircar @SrBachchan @taapsee
SONAL CHAUHAN: Just watched #PINK @SrBachchan at a loss of words. Every time you came on screen, I got goosebumps. You truly are a legend. Still can't get #PINK out of my mind. Each of u was flawless. Thank u 4 this film @ShoojitSircar . @tapseepannu @Imangadbedi @KirtiKulhari @taapsee so so so proud of you. What a brilliant performance. Felt every bit of it. Thank you for #PINK. You are flawless . @MrVijayVarma lucky you. A special mention to your performance. You played your part so convincingly.
Ashutosh Gowariker: #Pink is a must watch film for all men and women! @SrBachchan 's courtroom performance is a masterclass in acting! @ShoojitSircar
Rahul Bose: Just saw @TheFilmPink .All I will say is : Do not miss it. A gripping film with a wonderful message. #NoMeansNo #GenderJustice @Imangadbedi @TheFilmPink Congratulations to you, B. You were authentic, consistent and have strong screen presence. @kulharikirti Excellent performance, Kirti, in an important film. Internally relaxed, nuanced, brave and textured. @TheFilmPink
Harshvardhan Rane: Just watched @TheFilmPink, a fitting reply to our very own testosterone driven accusatory dictionary about women. Fresh language
Madhur Bhandarkar: @thefilmPink is compelling, intriguing & captivating. Great performances by @srbachchan, @taapsee, @kulharikirti & @andreatariang
Preity zinta: Wow Just saw PINK ! The most RELEVANT film of this year. 5 Stars to all in this film & 500 Stars to @SrBachchan
Dia Mirza: Celebrating the fantastic team of #Pink! A socially relevant, entertaining and necessary film of our time.#MustWatch
Dino Morea: @ShoojitSircar @taapsee @kulharikirti @Imangadbedi @AndreaTariang #pink was just terrific. @SrBachchan sir, you know your brilliant. The entire support cast of #Pink were superb too. Another outstanding film from @ShoojitSircar Happy to watch such brilliant cinema.
Sophie Choudry: Just saw @TheFilmPink ..One of the most important films to ever be made in Hindi cinema. Respect to the entire team #NoMeansNo #Pink @taapsee @KirtiKulhari & Andrea u girls were outstanding! @Imangadbedi I'm so proud of u for taking up this role! #Pink @TheFilmPink@SrBachchan sir we are lesser mortals & so privileged to witness the incredible work u do in every film! Thanku for #Pink @TheFilmPink @ShoojitSircar I can't tell you how much I respect you for constantly pushing boundaries! Thanku for #Pink
Sunil Grover: Charan Vandana @SrBachchan for the passionate performance in #Pink. Well done @taapsee @Imangadbedi and the entire cast. A Beautiful film
RichaChadha: Yo tweeps.PINK is an important film. Don't miss it. Amazing stuff by Vijay Verma,Jogi sir and everyone. @ShoojitSircar Congrats! Congratulations to a stellar cast @taapsee @kulharikirti and THE MAN WHO STUNS US EACH TIME AND HAS BEEN FOR EONS @SrBachchan! #PINK
Minissha Lamba: @ShoojitSircar #PINK is a film to watch out for. Outstanding performances, a simple story about a very complex problem we face
Juhi Chawla: Just watched PINK ...Many many Congratulations !! Shoojit , Amitji ,and all the young talented cast!! Compelling film !!Must watch for all!
Amit Sadh: Just saw one of the best and the most essential film of our time. #pink should be a must for everyone to watch! @TheFilmPink @taapsee my darling girl you have blown me with your depth as an actor in #pink. Be as limitless as you are here. I am so proud @Imangadbedi bro you are brilliant and I know you will always be this brilliant. #pink will always be the highlighted one @ShoojitSircar dada u r so honest & Ernst in ur approach 2 moviemaking. Stories & their narrations can't be handled better by anyone but u @SrBachchan sir u have shaken me as an actor. I can't imagine this #pink without you. I'm lucky to be an audience in Amitabh Bachchan Era. Each & every character is a necessity in the film. I have not cried so much in so long. #pink is everything a cinema lover like me wants @kulharikirti still haunted by your breakdown in the court ...brilliant !! Good luck for the promotions and enjoy the glory #pink
Usha Jadhav: Saw #PINK ... Another great performance by @SrBachchan Sir... And another fantastic film by @ShoojitSircar da... Loved it...
Siddhartha Basu: #Pink makes you see red. About inequities & hypocrisies. With high histrionics, it hammers home what we should know - a woman's no is a no
Divyendu Sharma: @TheFilmPink is a superbly made film. One of d most imp. film of our times. Beautfly written,directed,shot,edited, background score evthng. N powerhouse performances by @taapsee @kulharikirti @AndreaTariang .. u guys were awesome n @SrBachchan OMG sheer brilliance! #PINK @taapsee the pleasure ws all ours.. n trust me i mean it.. u ROCK!! @ShoojitSircar u deserve all d applause fr making a film like @TheFilmPink dis time as a producer. #PINKObsession @tusharpandeyx @MrVijayVarma @Imangadbedi.. Bad guys Gud performances.. u guys were scarily convincing!! @TheFilmPink
Wajid Khan: Ystdy saw @TheFilmPink everyone's work is mindblowing what a film @SrBachchan sir aap toh aap hain sabke baap hain
Bunty S Walia: @SrBachchan @ShoojitSircar #pink what to say! Outstanding! Speechless ! Amitji u are n institution ! Cast n crew take a bow! @kulharikirti @taapsee @Imangadbedi well done !#pink#no is no