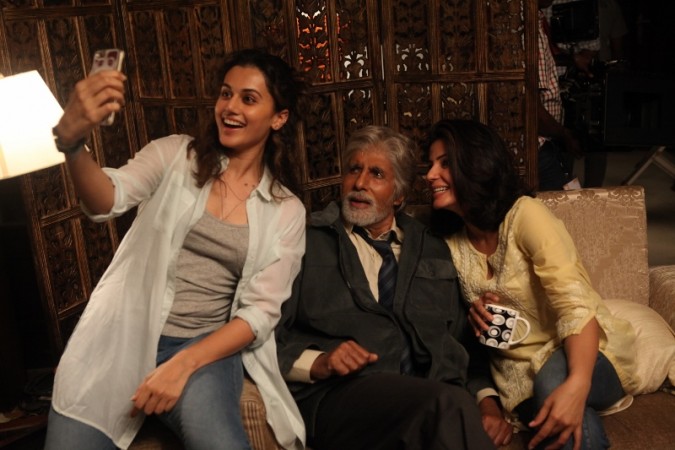 Director Aniruddha Roy Chowdhury's Bollywood movie "Pink", starring Amitabh Bachchan, Taapsee Pannu, Kirti Kulhari and Andrea Tariang, has garnered positive reviews from the audience.
Movie stills | Special Screening | Trailer Launch
"Pink" is a courtroom drama and the court room scenes in the film are inspired from 1988 Hollywood film "The Accused." Ritesh Shah has written the story and screenplay for the movie, which is about Minal Arora (Taapsee Pannu), Falak Ali (Kirti Kulhari) and Andrea (Andrea Tariang) as working professionals staying together as tenants in a posh South Delhi locality.
One night, Rajveer (Angad Bedi) invites the three girls for dinner at a resort. He and his friends get drunk and try to molest the girls. Minal smashes a bottle on the eye of Rajveer, who files a wrong case against the girls, labelling them prostitutes. How lawyer Deepak Sehgall (Amitabh Bachchan), who is suffering from a bipolar disorder, fights the girls' case against these influential boys forms the crux of the story.
The audience say "Pink" has an interesting story and gripping screenplay. Aniruddha Roy successfully manages to hold the attention of the film goers, right from the beginning till the end of the movie. Ritesh Shah's brilliant script, which makes the film a thriller, is the main highlight of the movie.
Amitabh Bachchan, Taapsee Pannu, Kirti Kulhari and Andrea Tariang have delivered good performances, which are also highlights of "Pink." Supporting artistes Piyush Mishra, Dhritiman Chatterjee, Angad Bedi, Tushar Pandey, Raashul Tandon and Vijay Verma have done justice to their roles and that supports the storyline in a big way, say the audience.
Rashmi Sharma and Shoojit Sircar have bankrolled "Pink" under the banner of Rashmi Sharma Telefilms Limited and it has rich production values. Brilliant picturisation and amazing background score are the attractions on the technical front, say the viewers. We bring you some filmgoers' verdict shared on Twitter. Here is the live update of "Pink" movie review by audience:
Taran Adarsh ‏@taran_adarsh
Watched #Pink... Shocked. Stunned. Speechless... An OUTSTANDING movie in every respect... Taut writing and exemplary direction... #Pink is relevant... Raises pertinent questions... Exposes double standards... Mirrors harsh reality... Hits you like a ton of bricks... Take a bow, director Aniruddha Roy Chowdhury... You are a master storyteller... Like to single out courtroom sequences, esp post-interval... #Pink is embellished with bravura performances: Taapsee, knockout act... Kirti Kulhari and Andrea Tariang are superb... Angad Bedi excels... #Pink is yet another sparkling performance in Sr Bachchan's illustrious career... He is in terrific form... Final word: DON'T MISS IT!
Hemanth Kumar C R ‏@crhemanth
#PINK - The film...just go watch it. You will not be the same person after watching it. Kind of speechless right now. I might be crying too Quite rarely does a film engrosses you so much that you don't want to talk to anyone because you want to absorb it. #PINK did that to me :-)
Manish ‏@rmanish1
#Pink is intense, emotional, riveting & indisputably one of the finest film of the year. Critics are right & everyone is going to love Pink. Excellent performances only regret that BigB was never believable. But Dhritiman Chatterji as judge took court scenes to another level #Pink
Vikas Agarwal ‏@VikasAgarwalll
Long story put short, #PINK is in an altogether different orbit and easily the best movie of this millenium.
Priyank ‏@PunterPriyank
#Pink izzz 1 of d finest film of 2016 4 sure. Luvd it big time. Kudos 2 d entire cast & crew of d film! "No" isn't just a word,but a sentence in itself. @taapsee is simply brilliant as Meenal in #Pink & so is @SrBachchan as Sehgal.Bt 4 me d surprise package ws taapsee's perf.She's nailed it.
Shivi chauhan ‏@shivi_chauhan
When a girl is alone it's not an opportunity,it's a responsibility When she says NO, She means NO Brilliant movie #Pink @taapsee U nailed it
Pankaj Desai ‏@pankajdesai_19
#pink amazing movie must watch great message Amitji is water just keeping adding colours to acting.new girls have acted well
Faridoon Shahryar ‏@iFaridoon
.#Pink is not a film.It is a gripping story n as each page is flipped through,u get more n more engrossed in compelling emotional narrative. Director Aniruddha Roy Chowdhury isn't keen on giving u xpected twists n turns or thrills. Even the interval is regular but v Poignant #Pink. A taut clever screenplay n masterly direction makes 4 compelling cinema n #Pink scores v highly over there.U'd always b interested. Always! Kirti Kulhari is brilliant.Her vulnerability n yet the ability 2 rise 2 d challenge will keep u gulping amazement. HATS OFF!! #Pink. Taapsee is a sharp bolt but not out of d blue. She's terrific as a wronged girl who can also b 'questionable' n that makes her so Real #Pink. If it's Amitabh Bachchan,rest assured u r always in 4 a surprise.He shocks u wid his vulnerability n stuns u wid ferocious cleverness #Pink. #Pink is v well written,high on technical efficiency, great performances,n masterfully executed n it makes 4 terrific cinema. DO NOT MISS!
Rajyavardhan Rathore ‏@Ra_THORe
Just saw #Pink What a fabulous movie. Very powerful. Riveting. Pointed. Contemporary. Kudos @SrBachchan @ShoojitSircar @taapsee @TheFilmPink
SUHEL SETH ‏@suhelseth
#Pink is brilliant. @SrBachchan keeps redefining what thespian excellence is. @ShoojitSircar creates another marvel. @Imangadbedi is superb.
Gaurav Kapur ‏@gauravkapur
Great writing, measured performances, timely message. What a lovely film #Pink! Proud of you especially @Imangadbedi @ShoojitSircar @Imangadbedi Thank you for telling such great stories Shoojit
G9 Divya Solgama ‏@DIVYASOLGAMA
Just saw #Pink. Totally speechless. Salute to @SrBachchan for his spellbinding performance @taapsee & @KirtiKulhari are magnificent
Shalmali Kholgade ‏@itsShalmali
Just watched #PINK ! Stellar performances and direction! Hats off to the entire team. People, watch this one!!We need films like this! @SrBachchan u shine like the brightest star in #PINK.Can never get enough of u on screen!Thank u for ur incredible performance!lots of love @ShoojitSircar what a hard hitting film, this - #PINK! Can't seem to snap out of its aftermath. You're masterful !!@taapsee super performance ! Loved all of you in #PINK !
Satrajit Sen ‏@satrajits
@ShoojitSircar eagerness to watch @TheFilmPink just increases with each congratulatory tweet after tweet from people who have already done!
Bharathi Pradhan ‏@editorbharathi
Luvd @SrBachchan @taapsee in the stark trailr of @Pink. Luk fwd 2 watchng it 2day. Sure @ShoojitSircar has anothr winnr comng up @ParagDesai Whn evn frends lyk @MaheshNBhatt @karanjohar hve turnd diffident abt showng their flms, I laud @ShoojitSircar 's confdnce.Watchng @Pink 2day
Sushanth A ‏@iamSushanthA
Well written and superb performances! @SrBachchan is Congratulations @taapsee , wonderful job!
Ramesh ‏@rameshker
#pink watched @SPIcinemas nice movie excellent dialogues brilliant performance @SrBachchan asusual u r great sir kudos to the entire team
AMIT MISTRY ‏@AMIT_B_MISTRY
@SrBachchan Sir excellent performance by you IN #PINK. Sir even after so many years it feels that we are seen you afresh. !Bravo Sir Bravo!
Vivegan ‏@vivegan
@ShoojitSircar #pink is really a good movie sir .. A very important film with supremely good msg :)) richa sakalley ‏@richakiduniya 2h2 hours ago Noida, India Wonderful Script, Superb dialogues #Pink A must watch for all. Brilliant show.
Chumma ‏@chummada
#pink the movie all boys and girls must watch it...brilliant performance by amithab ji and excellent dialogues ..
Bharat C Thakur ‏@bcthakur
@ShoojitSircar story of the millions told simply with an authority.kudos for lifting a story of our lives around.#pink has made an impact.
Sarvesh Shete ‏@aaplasarvesh
#Pink is powerful, moving, provoking. Amitabh, Taapsee and Kirti absolutely kill it! Go and watch this movie asap and break all taboos. 4/5
Vatsa Vineet ‏@vatsavineet 3m3 minutes ago
@TheFilmPink what a movie! Hats of to the writer & director.& brilliant performances-everyone deserves kudos.#pink. Go watch it.