1

of 5 Actor Saif Ali Khan says Bollywood is incomplete without the presence of filmmaker Karan Johar. Saif will join Karan to host the 18th edition of the International Indian Film Academy (IIFA) Awards in New York next month.
Credit: Varinder Chawla
2

of 5 The actor, who was present here on Monday along with Varun Dhawan and Karan for an IIFA 2017 press conference, said: "Film industry is incomplete without Karan Johar." When mediapersons asked the reason behind making such a statement, Saif quipped: "'Baahubali...' Can you imagine our film industry without that? He is one of those arteries in the blood flow of the film industry."
Credit: Varinder Chawla
3

of 5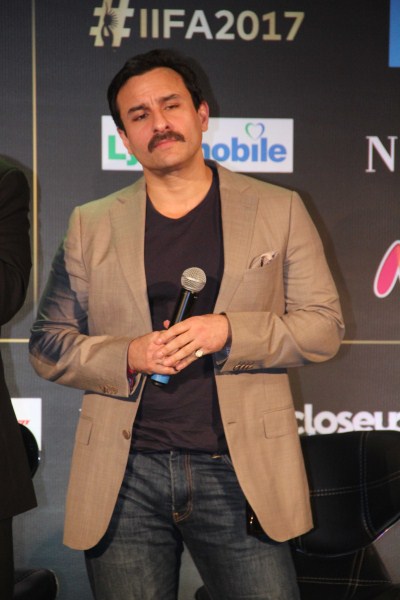 Karan, who was sitting next to him, thanked Saif for saying that. Looking back at his journey as a host, Karan said: "I realised I started hosting shows from 2000, which was a Filmfare award. It's been 17 years! I am glad that every year I have managed to get the job! The experience is always good, as I enjoy whenever I am on stage."
Credit: Varinder Chawla
4

of 5
Saif also said that he wants to host a show with superstar Shah Rukh Khan. He said: "It will be fun! He is so clever, I would live to host a show with him."
Credit: Varinder Chawla
5

of 5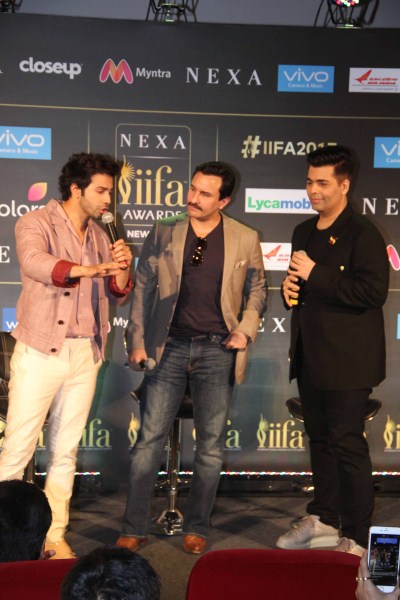 Varun, who was sitting next to Saif, said: "I would love to watch you (Saif) and Shah Rukh working together on-screen." IIFA will be taking place at the MetLife Stadium, New York on July 14 and 15.
Credit: Varinder Chawla