1

of 8 Filmmaker Neeraj Pandey along with Manoj Bajpayee, Sidharth Malhotra, Rakul Preet Singh and Pooja Chopra visited the BSF camp in Jaisalmer after the team received an invite from the Jawans.
Credit: Ispice
2

of 8
While the team lived the lives of the army officials following their routine, the cast and crew also celebrated the birthday of Sidharth Malhotra long with 16 Jawans. The actor cut his birthday cake along with the 16 jawans that share the same birth date.
Credit: Ispice
3

of 8
Overwhelmed by the celebrations actor Sidharth Malhotra said to the army officials, "I feel very special, thank you so much for entertaining us so well and celebrating my birthday. Thank you, Ajay and Amit sir (Army officers), when we did activities throughout the day with you, we realized how hard you work for our security. We just wanted to spend a day with you, some recreation, singing, dancing, this is all that we can give you back because what you all do for us is too high in value, what we are doing for you is too less. I'm hoping that you continue to protect us and we come back to entertain you. Thank you so much for making it special."
Credit: Ispice
4

of 8
While in Jaisalmer, the team had a fun time as they took a jeep, truck as well as a camel ride along the border.
Credit: Ispice
5

of 8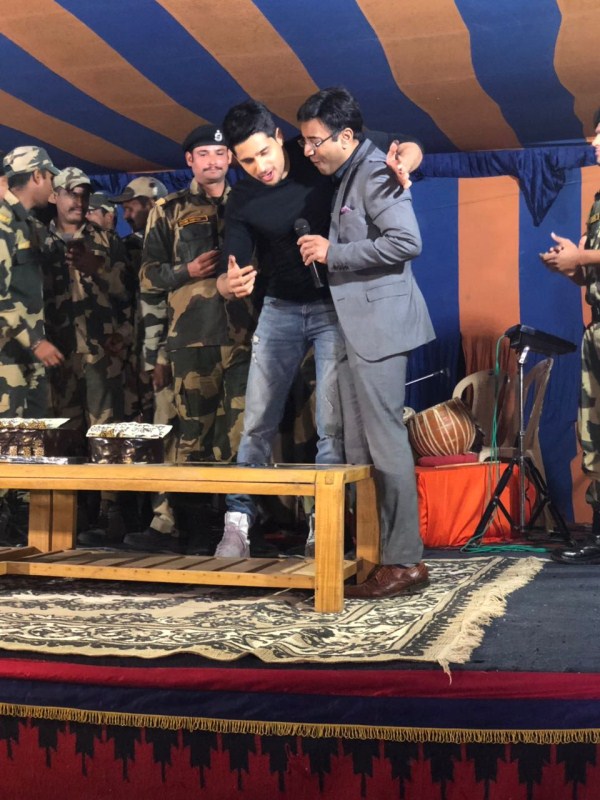 Filmmaker Neeraj Pandey has time and again expressed his gratitude towards the uniformed forces, with Aiyaary too the director gave an ode to the Jawans.
Credit: Ispice
6

of 8
From celebrating the Vijay Week, releasing the poster on Vijay Diwas, to celebrating the Army day with Jawans, team Aiyaary expressed their gratitude towards the Jawans.
Credit: Ispice
7

of 8
Neeraj Pandey's espionage thriller will yet again present a mind-bending story by the pioneer of the genre. 'Aiyaary' will showcase the ace filmmaker's hold over the genre after films like 'Special 26', 'Baby', 'Rustom', 'M.S.Dhoni', 'A Wednesday'.
Credit: Ispice
8

of 8
'Aiyaary' revolves around two strong-minded army officers having completely different views, yet right in their own ways, the film portrays Sidharth Malhotra as an army officer sharing a mentor-protege bond with Manoj Bajpayee.
Credit: Ispice