1

of 4 The force that spends the entire year away from their families protecting the nation's over 7000 kilometers land border had the kids along with the toons pay them a visit to celebrate the auspicious occasion of Rakshabandhan in its true essence of "Surakshabandhan". Festivity, Respect and selflessness was at full display as children along with the toons tied the symbolic Rakhi to the soldiers as prelude to iconic retreat ceremony, thus saluting their bravery, selflessness and relentless commitment to the country.
2

of 4 Rakshabandhan is one of the most celebrated festivals in the Indian sub-continent, marked to celebrate and express gratitude to the guardians of the family. Bringing alive the true spirit of rakshabandhan, Nickelodeon, this year curated 'Surakshabandhan', a unique initiative celebrating the bravest heroes of the nation who guard the borders to ensure safety and security of each and every citizen.
3

of 4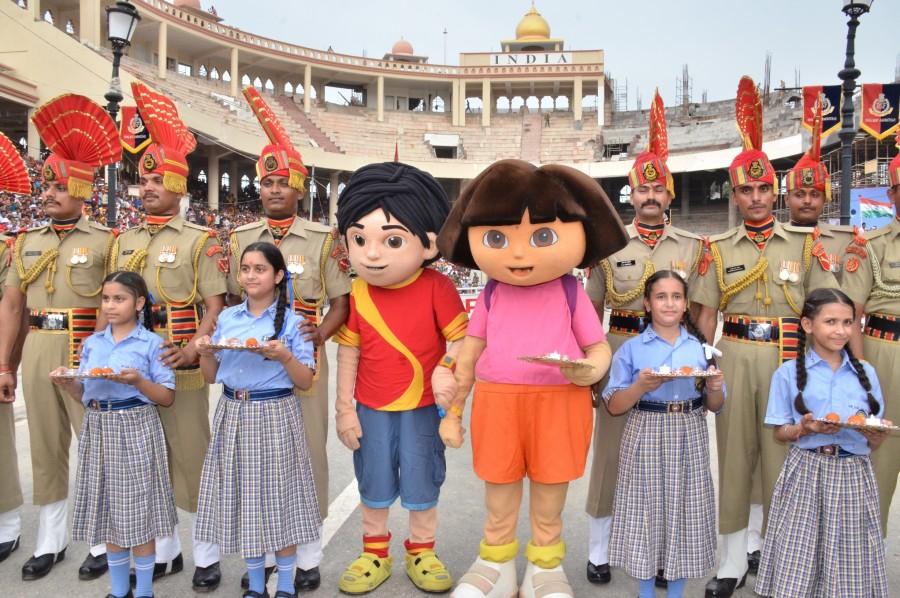 As part of this initiative children along with the Nicktoons infused energy at the border with their lively presence as they celebrated Rakshabandhan by tying Rakhi's on the fists of the soldiers. Adding to this, the children also joined Dora and Shiva to participate in the dance ceremony prior to the retreat. Through this landmark initiative, Nickelodeon has set out to create awareness amongst children and the youth about the forces like the Border Security Forces and they contribution in helping the nation achieve its dreams while leading a safe and secure life with their families.
4

of 4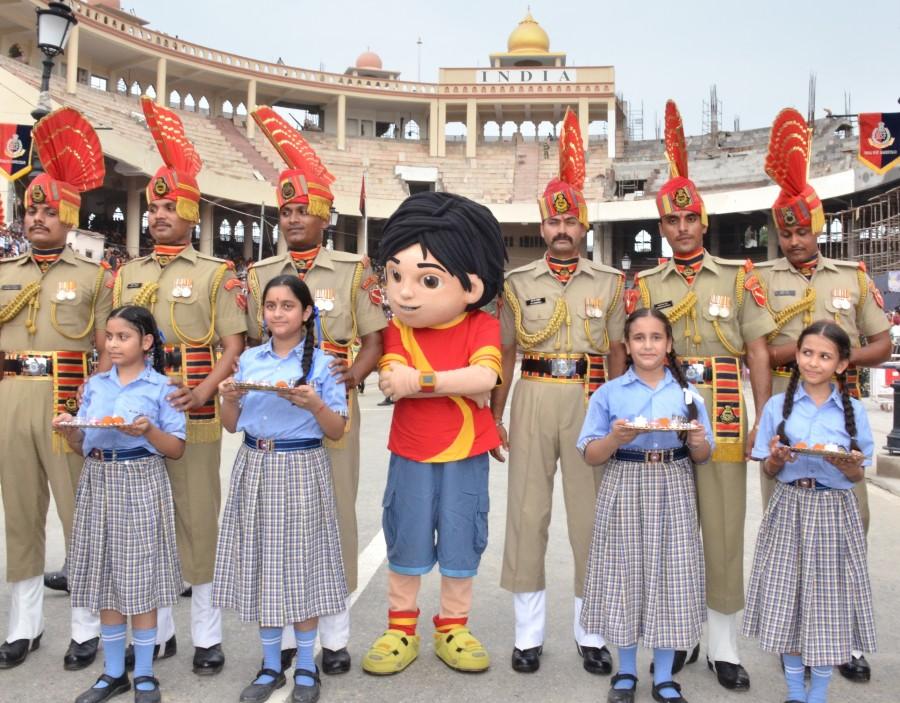 The BSF officials were overwhelmed to witness children visiting them along with their favorite toons Dora and Shiva for a special celebration. Addressing the initiative by Nickelodeon, Mr. JS Oberoi, Deputy Inspector General (DIG), Amritsar said "We are extremely delighted with the thoughtful initiative that Nickelodeon has taken with Surakshabandhan. Our soldiers miss out on spending time with their friends and families on festivals, Rakshabandhan being one. Having children take time out and celebrate the festival of rakshabandhan with us has definitely been a heart-warming experience for all our soldier who have now been gifted some beautiful memories that they will cherish this rakshabandhan.