1

of 5 Jaipur Pink Panthers rode on a solid performance to beat Tamil Thalaivas 27-26 in Inter Zone Challenge Week of the fifth Pro Kabaddi League here on Friday. In what was a closely-fought encounter, both teams scored the equal number of raid and tackle points and it was Jaipur's experience that pushed them over the line in the end.
Credit: IANS
2

of 5 Manjeet Chhillar and Pawan Kumar scored five points apiece as they contained Thalaivas' raiders throughout the match. Ajay Thakur scored 13 points for the Thalaivas but couldn't get enough support from his teammates. No other Thalaivas raider got more than one point. Jaipur have 43 points from 14 matches are now fifth in Zone A table and Thalaivas are bottom of the table with 33 points from 15 matches in Zone B.
Credit: IANS
3

of 5
Jaipur began the match brightly and took a 3-1 lead in the third minute as Tushar Patil got two raid points, but Thalaivas scored a tackle point in the fifth minute to level the game at 4-4. Patil got a two-point raid in the eight minute as Jaipur led 8-5. Ajay Thakur got two raid points in two minutes as Tamil Thalaivas trailed 7-9 in the 11th minute. Pawan Kumar scored a raid point in the 16th minute as Jaipur leveled the match at 13-13 and then inflicted an all out to lead 16-14 in the 18th minute. Jaipur went into the break leading 18-15 as Pawan Kumar got another raid point.
Credit: IANS
4

of 5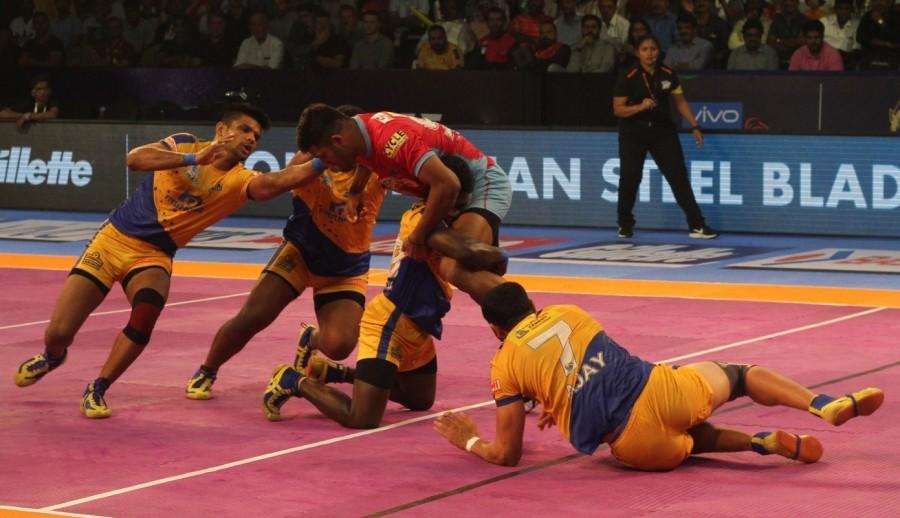 Thakur was assigned raiding duties and he didn't disappoint as he scored four points in five minutes as Thalaivas tied the match at 20-20 in the 29th minute. Holding a slight edge as they led 25-23 in the 35th minute, Jaipur sent Ajay Thakur to the bench in the 37th minute as they led 26-24. Chhillar and Pawan Kumar got a high five for Jaipur Pink Panthers in the second half.
Credit: IANS
5

of 5
Thalaivas forced a super tackle in the last minute but it wasn't enough as they lost 26-27.
Credit: IANS