1

of 5 Gujarat Fortunegiants made short shrift of Dabang Delhi hammering them 42-22 in the fifth Pro Kabaddi League (PKL) here on Tuesday. It was yet another dismal showing by Delhi as they crashed to their 14th defeat of the campaign. Delhi's defence had a terrible game as they scored just four points in the match.
Credit: IANS
2

of 5 Gujarat are top of the table in Zone A with 67 points from 18 matches. Delhi are rooted at the bottom of the table with 31 points after 19 matches. Gujarat made a blistering start and led 4-1 in the fourth minute with Sachin scoring two raid points. Delhi forced a super tackle in the sixth minute to trail 3-9. In the next minute Gujarat inflicted an all out to lead 12-3.
Credit: IANS
3

of 5
Sachin and Ranjit continued to pile on points for Gujarat as they led 17-5 after 12 minutes. Delhi raiders couldn't keep up with Gujarat defence whereas their defenders were finding it difficult to contain the opposition raiders. Gujarat inflicted the second all out of the match in the 15th minute to lead 23-7. Sriram made a two-point raid in the 18th minute as Delhi trailed 9-27 at the end of the first half.
Credit: IANS
4

of 5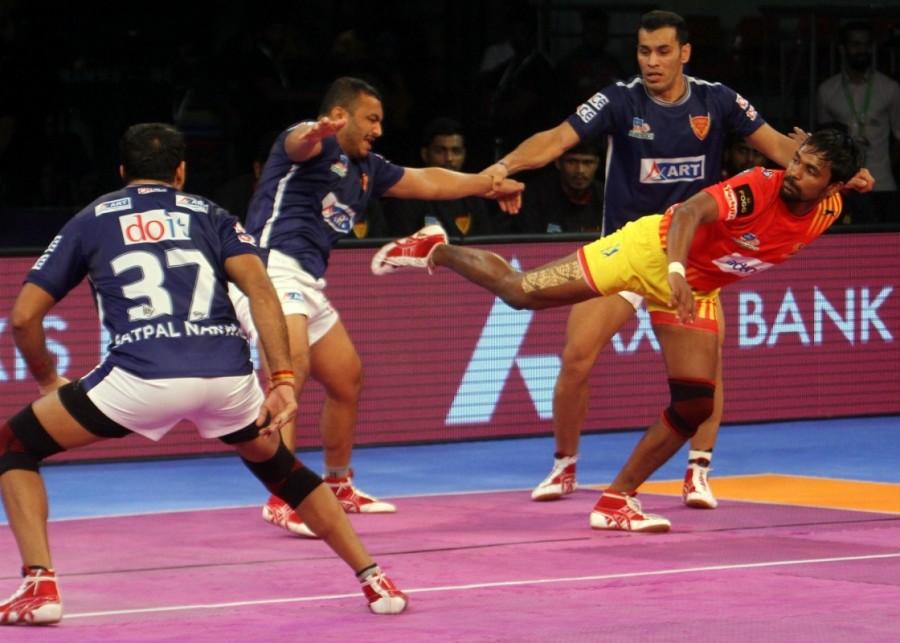 Abolfazl Maghsodlou was the lone spark for Delhi in the second half as he got raid points for his team. In the 25th minute, Gujarat forced another all out to lead 38-15. Gujarat stepped off the gas in the last 10 minutes of the match and scored just four points.
Credit: IANS
5

of 5
Delhi couldn't capitalise on that and scored seven points in the last 10 minutes.
Credit: IANS