1

of 5 This Saturday COLORS' kids comedy talent hunt show Chhote Miyan Dhaakad will have its Dhamakedaar Grand Finale in the presence of judges Neha Dhupia and Sohail Khan. The Grand Finale, scheduled to air on Saturday 24th June 2017, will see the young guns of comedy make the final attempt to impress with their comic timings and laughter-inducing acts.
Credit: Varinder Chawla
2

of 5 Kicking off the night on a hilarious note will be host Bharti Singh who, in her 'Lalli' avatar, will leave everyone in splits.
Credit: Varinder Chawla
3

of 5
Taking the league forward will be the comic crusaders who will push the boundaries of entertainment with their performances. Be it Divyansh Dwivedi's uncanny imitation of two damdaar heroes Salman Khan and Sunny Deol, or Agrima's performance emulating the Baadshah of Bollywood, Shah Rukh Khan, every act will create unparalleled ripples of laughter.
Credit: Varinder Chawla
4

of 5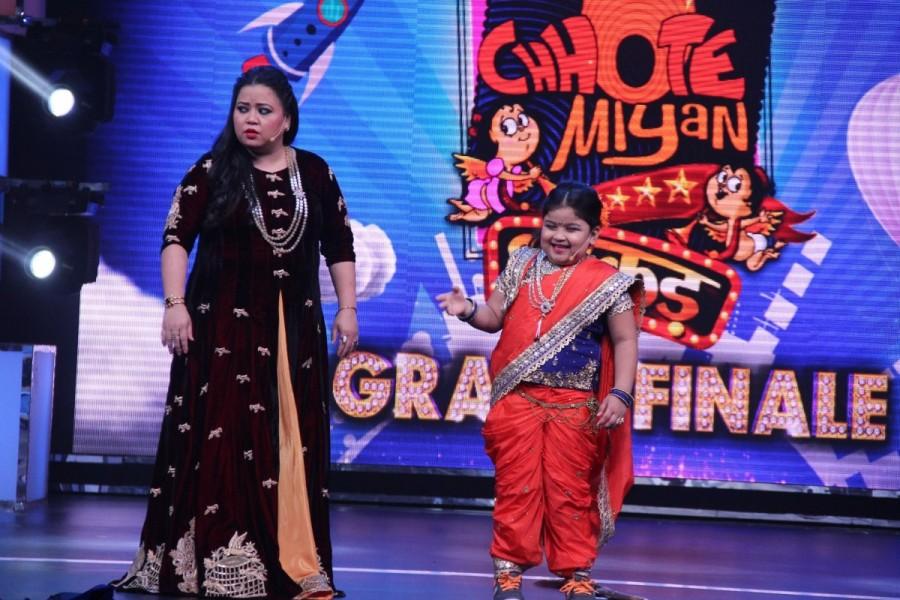 Little princess Kavya Ramani's cuteness will further magnify tenfold with her adorable Sakhu-bai act.
Credit: Varinder Chawla
5

of 5
Neha's cutie pie Vedansh Pagaare's act as the mini 'Crime Master GoGo' will charm everyone including judge Neha Dhupia who will reward him with a peck on his cheek.
Credit: Varinder Chawla