1

of 3
Indian Hockey Legend Sandeep Singh is extremely excited to showcase his biopic Soorma starring Diljit Dosanjh to his family. As the sports drama is inching closer to its release, Sandeep Singh expressed his excitement to show his life story to his family. The hockey legend feels that 'Soorma' is actually a story of their struggles. From emerging as one of the best hockey players to rising back after being shot, Sandeep Singh's life story depicts struggles at every turn of his life. There was a point where the family lost everything and had to even sell their house and stay with their uncle. Talking about showcasing the film to his family, Sandeep Singh shares,"My entire family and I are very excited to see the film for the first time. We are coming to Mumbai tomorrow and my parents are looking forward to see the reality on my life on the big screen".
2

of 3
Soorma is a story inspired by a real story and director Shaad Ali has tried to keep it as real as possible. Sandeep Singh was shot with a bullet while he was traveling in the train 12 years ago, after which the hockey player was paralysed for 2 years. But his determination and love for the game brought him back and he won several medals for our country.
3

of 3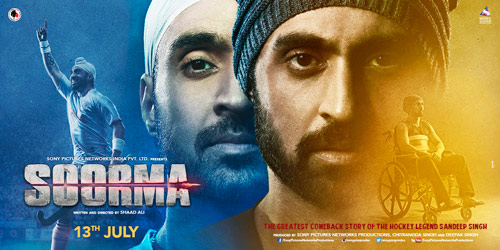 The film has been shot in his hometown Shahabad to capture the real essence of his struggle and the journey to become the hockey legend.