1

of 4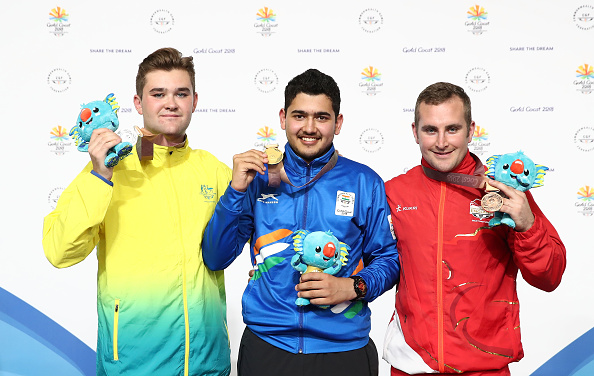 Silver medalist Sergei Evglevski of Australia, gold medalist Anish of India and bronze medalist Sam Gowin of England pose during the medal ceremony for the 25m Rapid Fire Pistol Men's Finals during the Shooting on day nine of the Gold Coast 2018 Commonwealth Games at Belmont Shooting Centre on April 13, 2018 on the Brisbane, Australia.
Credit: (Photo by Scott Barbour/Getty Images)
2

of 4 Indian shooter Anish fired a new meet record to win gold in Men's 25m Rapid Fire Pistol competition at the 21st Commonwealth Games (CWG) here on Friday.
3

of 4
Anish scored 30 points in the finals to finish two points ahead of Australia's Sergei Evglevski.
4

of 4
Sam Gowin of England scored 17 to take the bronze medal.