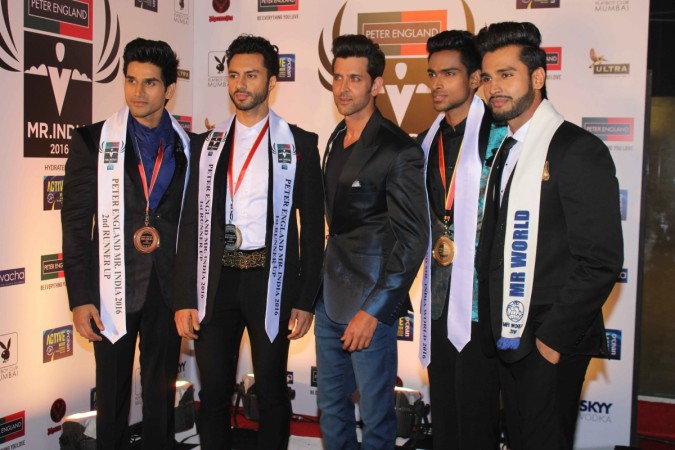 Male beauty pageant Peter England Mr India 2016 announced Vishnu Raj Menon as the winner of this year's title. The winner of Mr India 2016 was announced on Thursday night in Mumbai in a grand ceremony, which saw the presence of Bollywood heartthrob Hrithik Roshan.
Altamash Faraz was named the second runner-up while Viren Barman got the first runner-up award. Menon succeeds Mr India 2015 winner Rohit Khandelwal, who is currently Mr World 2016. The Mr India 2016 winner will represent India at the Mr World 2017 male beauty pageant, which is organised by the Miss World Organization.
More than 10,000 men had sent their entries for the Mr India 2016 competition. Out of the total number of entries, the organisers selected the top contestants who were mentored by Prasad Bidapa, show director, Nivedita Saboo, fashion director, Amit Khanna, fashion photographer, and Abbas Ali, celebrity fitness trainer.
"Peter England Mr. India 2016 creates a strong and unique bond with the brand and the youth. This pageant that fits in beautifully for the multi-faceted youth resonates our brand's philosophy - 'Be Everything You Love'. It is our constant endeavor to engage our audiences with exciting and thrilling experiences, confident of making Young India fashionable and upbeat," Manish Singhai, brand head - Peter England, Madura Fashion and Lifestyle, Aditya Birla Fashion and Retail Ltd., said in a statement.
Here's the sub-contest winners list:
Times Best Actor: Altamash Faraz
Mr Perfect Body: Varun Varma
Mr Photogenic: Vishnu Raj Menon
Times Top Model: Dev Paimal
Mr Active: Ponnanna CB
Peter England Style Icon: Altamash Faraz