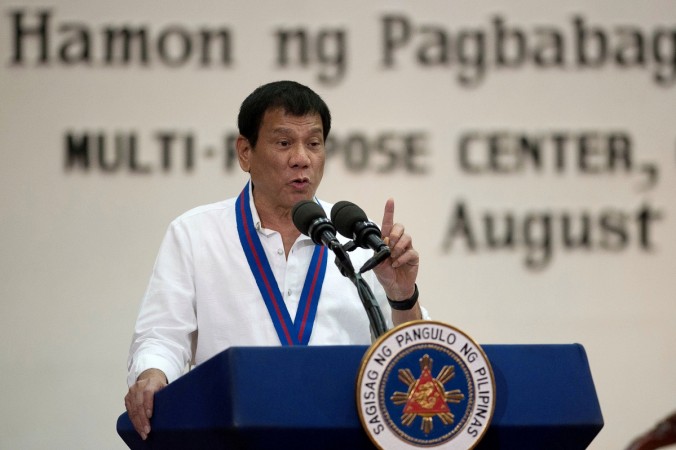 Philippines President Rodrigo Duterte said on Sunday that the country may leave the United Nations (UN) and invite China and others to form a new organization.
He made these comments in response to two United Nations human rights experts, slamming the newly formed government for encouraging extra judicial killings in a bid to eradicate the drug menace in the Philippines.
Duterte's comments
"I will prove to the world that you are a very stupid expert…I do not want to insult you. But maybe we'll just have to decide to separate from the United Nations. Why do you have to listen to this stupid?" said President Duterte in a middle-of-the-night news conference in his home town, Davao, as he urged his critics to count not just the number of drug-related deaths but also the innocent lives lost to drugs.
He continued criticizing the United Nations saying it was not able to fulfil its own mandate but was instead "worrying about the bones of criminals piling up".
"You now, United Nations, if you can say one bad thing about me, I can give you 10 [about you]. I tell you, you are an inutile. Because if you are really true to your mandate, you could have stopped all these wars and killing." Duterte said while alluding to the UN's inability to address hunger and terrorism and wars in Syria and Iraq.
Asked about the possible consequences of his comments, he said: "What is ... repercussions? I don't give a shit to them." He said while adding that United Nations should have sent someone such as a rapporteur to hold discussions with him.
"You do not just go out and give a shitting statement against a country," Duterte, also known as "The Punisher", was quoted saying.
Extra Judicial killings promoted by Philippines government?
Human rights organizations and media reports claim that between 600-900 deaths have occurred in the Philippines since Duterte assumed office on June 30. Duterte has granted police immunity and imposed 'shoot to kill' orders against organised criminals and those who resist arrest.
As of Aug. 15, at least 130 bodies had yet to be identified. Though the encounters involved police and security personnel, many have reportedly occurred due to vigilante citizens whom Duterte has been encouraging since before being inducted into office.
In an election campaign speech broadcast on national television on June 5, Duterte encouraged citizens to kill suspected drug dealers or users as a "duty", and offered huge bounties to people who turn in drug dealers – "dead or alive".
"Double your efforts. Triple them. We will not stop until the last drug lord, last financier and last pusher have surrendered or are put behind bars or below the ground…If you know of any addicts, go ahead and kill them yourself," President Duterte was quoted saying in his inauguration speech as he addressed the nation on June 30.
In the first month of his presidency, Duterte said that more than 60,000 people with links to the drug trade had surrendered to the police. Images of overcrowded prisons, such as one overcrowded prison in Quezon, have invited criticism from human rights group. Amnesty International claims that one central Manila prison holding nearly five times more prisoners than it was built to house.
Photos of a death in Manila
Often, there are some photos that inexplicably become iconic and begin to dominate popular imagination. A recent such picture of a death in Manila became the catalyst that put international spotlight on the spike in extrajudicial killings.
These viral image of Jennelyn Olaires, weeping as she cradled the body of her slain husband, was called "melodramatic" by President Duterte. Similarly, former mayor of Davao City also said media had tried to portray the image of Olaires as being like the Michelangelo's Pieta, the sculpture of Mary holding the body of Jesus.
Her slain husband was identified a drug user named Siaron who did odd jobs such as run a pedicab -- a bicycle with a sidecar in order to make money. Olaires rebutted suggestion that her husband was a drug peddler, claiming that they were too poor and could barely pay for their next meal.
"They must kill the ones who don't deserve to live anymore, the ones who are a menace to society. Because they cause harm to others. But not the innocent people," she was quoted saying to Reuters as she alluded to the death of her husband Siaron, who ironically had voted for Duterte in the May 9 election.
"If I only have wings, I will quickly fly to his side," Olaires was quoted saying after she discovered her husband's body.