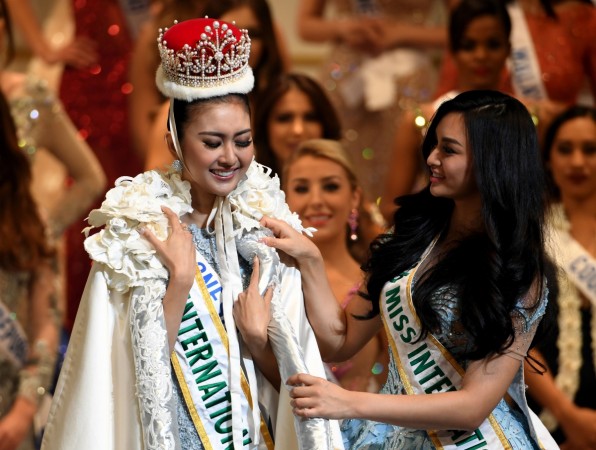 Kevin Lilliana won the Miss International 2017 pageant in Tokyo, Japan on Tuesday. The Indonesian beauty succeeded Philippines' Kylie Verzosa. The coronation took place in Tokyo, Japan on November 14.
Indonesia beat 69 other candidates during the pageant to win the crown. "I still can't believe it. It's a dream come true," Lilliana said after her crowning took place.
Also Read: Miss International 2017: Where to watch finale online, complete list of contestants
Philippine's Mariel de Leon ended her journey early in the beauty pageant. The daughter of Christopher de Leon and Sandy Andolong failed to make a spot in the Top 15.
Contestants from Curacao, Venezuela, Slovakia, United Kingdom, Ghana, Honduras, Japan, Ecuador, Finland, Laos, Indonesia, Panama, Thailand, Australia, and South Africa reached the Top 15.
While the South Asian country won, the first runner-up was awarded to Curacao's Chanelle Wilhelmina Maria and second runner-up went to Diana Croce Garcia, Venezuela. Australia's Amber Dew took the third spot and Japan's Natsuki Tsutsui came fourth.
Among the special awards, the Best National Costume was awarded to Natsuki Tsutsui of Japan, Miss Perfect Body went to Amber Dew, Australia and Best Dressed was awarded to Kevin Lilliana, Indonesia.
The beauty pageant also saw special award winners. Miss International Asia was awarded to Korea; Miss International Europe was given to the United Kingdom; Miss International Africa went to Ghana; Miss International America to Bolivia and Miss International Oceania was given to New Zealand.