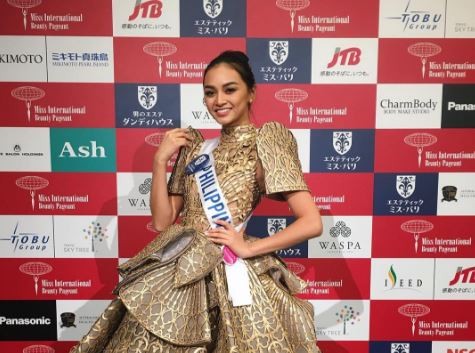 In a few hours, the 57th Miss International will be announced in Tokyo, Japan. The grand finale of Miss International 2017 will take place in Tokyo Dome City Hall on November 14.
On Tuesday, after the results are announced, Miss Philippines Kylie Verzosa will crown the Miss International 2017 winner. The grand finale will start at 3 pm local time and will be aired live on the official YouTube channel of the beauty pageant. The link is given below.
The event will be aired in India at 11.30 am, 2 am in New York, 7 am BST in London and 2 pm in Singapore.
Ankita Kumari will represent India.
You can live stream here: Miss International Live Stream
Here is the complete contestant list:
Argentina - Agustina Belen Garro
Australia - Amber Dew
Belarus - Polina Pimahina
Belgium - Virginie Philippot
Bolivia - Carla Patricia Maldonado Simoni
Brazil - Bruna Zanardo
Cambodia - Sophea Nhat
Canada - Marta Magdalena Stepien
Chile - Estefania Galeota
China - Jia Shi
Colombia - Vanessa Pulgarin Monsalve
Cook Islands - Silas Tuaputa
Costa Rica - Karla Paola Chacon Fuentes
Curacao - Chanelle Wilhelmina Maria
Czech Republic - Alice Činčurová
Dominican Republic - Jennifer Valdez
Ecuador - Jocelyn Mieles
El Salvador - Fatima Mangandi
Ethiopia - Bamlak Dereje
Finland - Pihla Koivuniemi
France - Maëva Balan-Merceron
Germany - Victoria Selivanov
Ghana - Daniella Akorfa Awuma
Gibraltar - Tessa Britto
Guadeloupe - Stressia Clodilde
Guatemala - Ana Lucía Villagrán
Haiti - Caroline Minerve Sanchelle Begein
Hawaii - Courtney Coleman
Honduras - Vanessa Villars
Hong Kong - Wing Wong
Hungary - Rebeka Harto
India - Ankita Kumari
Indonesia - Kevin Lilliana
Japan - Natsuki Tsutsui
Korea - Nam Seung Woo
Laos - Phounsap Phonnyotha
Lebanon - Dima Safi
Lithuania - Patricija Belousova
Macau - Sofia Vanessa Dos Santos Paiva
Malaysia - Annie Wong Wei Wei
Mauritius - Marie Desiree Sabrina Laetitia Begue
Mexico - Citlaly Higuera
Moldova - Daniela Bejan
Mongolia - Saikhantamir Amarsanaa
Myanmar - Sao Yoon Wadi
Nepal - Niti Shah
Netherlands - Nathalie Mogbelzada
New Zealand - Michelle Isemonger
Nicaragua - Helen Martinez Treminio
Norway - VildeAndresen Bo
Panama - Darelys Santos
Paraguay - Fatima Tatiana Rolin Trombetta
Peru - Tiffany López
The Philippines - Maria Angelica De Leon
Poland - Paulina Maziarz
Portugal - Ana Rita Almeida Marques
Russia - Elena Kviatkevich
Sierra Leone - Abie Mansaray
Singapore - Kylie Yeo
Slovakia - Petra Varaliova
South Africa - Tayla Skye Robbinson
Spain - Elizabeth Victoria Ledesma Laker
Sweden - Lina Ljungberg
Taiwan - Ling Tzu Hsieh
Thailand - Ratiyaporn Chookaew
Tunisia - Khaoula Gueye
Ukraine - Kseniia Chyfa
UK - Ashley Powell
USA - Shanel James
Venezuela - Diana Macarena Croce García
Vietnam - Huynh Thi Thuy Dung
Miss International 2017 Predictions:
While the world has to wait and watch which country would take home the crown, Rappler predicts that there are high possibilities that the Philippines could take home the crown. Mariel de Leon represents the South Eastern country. If she does, Philippines will hole the Miss Earth and Miss International title this year.
However, Missosology's hot picks of this year predict that Indonesian contestant Kevin Lilliana could be the winner. They come to the result following the votes by resident pageant experts and missiologists were gathered.
They also predict that Japan's Natsuki Tsutsui will take the runner-up spot whereas Lithuania's Patricija Belousova will finish third.