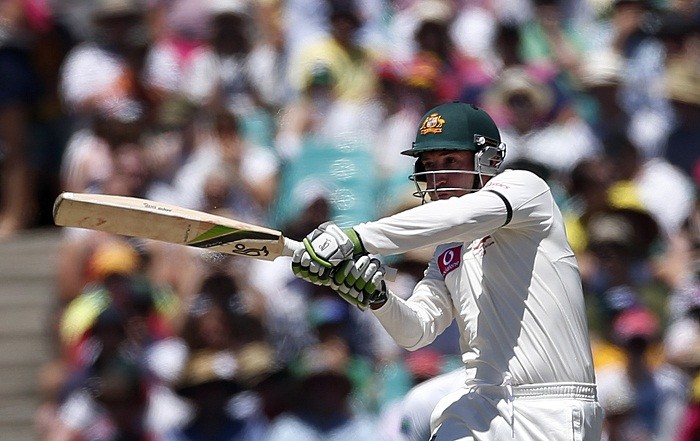 The one thing you never want to witness as a cricketer or a cricket fan unfortunately happened with Phil Hughes succumbing to a head injury sustained after the ball hit him on the back of the head from a bouncer in a Sheffield Shield match.
Hughes was in critical condition after undergoing emergency surgery on Tuesday, with the Australia international batsman kept in an induced coma in intensive care at the St. Vincent's Hospital in Sydney.
A statement said Hughes remained in critical condition on Wednesday, but the worst possible fears have now been realised with the 25-year-old succumbing to his injury.
"It is my sad duty to inform you that a short time ago Phillip Hughes passed away," Australia team doctor Peter Brukner said on Thursday.
"He never regained consciousness following his injury on Tuesday. He was not in pain before he passed and was surrounded by his family and close friends.
"As a cricket community we mourn his loss and extend our deepest sympathies to Phillip's family and friends at this incredibly sad time.
"Cricket Australia kindly asks that the privacy of the Hughes family, players and staff be respected."
Hughes collapsed on the field after being struck by a bouncer from Sean Abbott in a Sheffield Shield match between New South Wales and South Australia, with the batsman given CPR at the SCG.
After getting him breathing again, Hughes was rushed to St. Vincent's hospital where he underwent surgery.
Hopes were intact that Hughes would make a recovery from the sickening "man why did it ever happen" blow to the back of the head/neck, but after remaining in an induced coma, the talented left-hander, who was in line to play the first Test match against India if Michael Clarke failed his fitness test, passed away on Thursday afternoon. Expectedly, India's two-day tour match against a Cricket Australia XI scheduled to begin in Adelaide on Friday was cancelled.
"Phillip was hit in the neck by a cricket ball at the SCG on Tuesday," Brukner confirmed on Thursday. "He momentarily stood up and then immediately collapsed on the ground.
"Phillip took the blow at the side of the neck and as a result of that blow his vertebral artery, one of the main arteries leading to the brain, was compressed by the ball. That caused the artery to split and for bleeding to go up into the brain. He had a massive bleed into his brain. This is frequently fatal at the time.
"However, Phillip was resuscitated and then managed by in particular Dr John Orchard, the Cricket NSW doctor, and paramedical staff, and we were fortunate enough to have Dr Tim Stanley, an intensive care specialist from Newcastle, who was in the crowd and came and helped.
"They all did an excellent job of keeping Phillip alive and he was able to be transported by ambulance to hospital in reasonable condition."
Michael Clarke made a statement on behalf of Hughes family – his parents Virginia and Greg and siblings Megan and Jason.
"We are devastated by the loss of our much-loved son and brother Phillip," Clarke read. "It has been a very difficult few days. We appreciated all the support we have received from family, friends, players, Cricket Australia and the general public.
"Cricket was Phillip's life, and we as a family shared that love of the game with him. We would like to thank all the medical and nursing staff at St Vincent's Hospital and Cricket NSW medical staff for their great efforts with Phillip.
"We love you."
Cricket New South Wales chief executive Andrew Jones paid tribute to the "bright young man."
"Phillip is fondly remembered as a bright and cheeky young man with an infectious smile who emerged as an outstanding junior more than a decade ago," Jones said in a statement. "Like so many NSW and Australian players before him, Phillip moved to Sydney to play Grade Cricket and found a home at Western Suburbs.
"He rose quickly through the ranks, debuting for NSW and scoring a century in a Sheffield Shield final at 19. For all his good humour he took cricket very seriously and always worked tremendously hard at his game.
"Despite being in and out of the Australian team during his emerging years Phillip never complained when he was dropped or overlooked. He always focused on making himself a better player.
"It was typical of Phillip that he was fighting his way back into the national team again with a fine innings for South Australia against NSW at the SCG last Tuesday before suffering a freak accident. Phillip had already scored 26 first class centuries and his best cricket was ahead of him. It is unspeakably sad he cannot now achieve his potential in the game."
John Warn, Cricket NSW chairman also gave his condolences. "The entire NSW cricket community offers our heartfelt condolences to Phillip's mother and father Virginia and Greg, sister Megan and brother Jason at this most difficult of times," Warn said. "Their grief is being felt across the country and around the cricket world as the extended cricket family comes to terms with the sad loss of a very popular and talented young player.
"Phillip touched so many people playing for NSW, Australia, South Australia, county cricket in England and the IPL in India. A lovable, quiet and affectionate young man from the farming community of Macksville, Phillip has left an indelible impression on the game as a player and a person.
"So many in the NSW cricket family know Greg, Virginia, Jason and Megan personally. It is tragic that Phillip has been taken from them so young. He reflected their strong country values and warmth as a loving, caring family."
As much as it is an absolute tragedy for Hughes and his family, some thoughts should also be kept for Abbott, who will not be in the greatest of situations at the moment.
Just heard the worst news possible..our thoughts & prayers are with Phil, his family & friends. RIP Phil Hughes!!

— Mahela Jayawardena (@MahelaJay) November 27, 2014
Extremely sad news about the passing of Phil Hughes... RIP Hughesy. Condolences to his family & the people of Australia. — Alviro Petersen (@AlviroPetersen) November 27, 2014
We are deeply saddened by the passing of Phil Hughes. All our thoughts are with his family and friends pic.twitter.com/UB9wzuegZM

— McGrath Foundation (@McGrathFdn) November 27, 2014
Thoughts are with Sean Abbott too. Stay strong young man...it's not your fault. #cricket #PhillipHughes — Aakash Chopra (@cricketaakash) November 27, 2014
My heartiest condolences go out to phil Hughes's family..a very sad day for cricket..hope it never happens on a cricket field again..

— Varun Aaron (@VarunAaron) November 27, 2014
No no no no no. RIP Phillip Hughes — Adam Gilchrist (@gilly381) November 27, 2014
Cricket world mourns loss of Phillip Hughes: http://t.co/CP5eqB6E2B

— cricket.com.au (@CricketAus) November 27, 2014