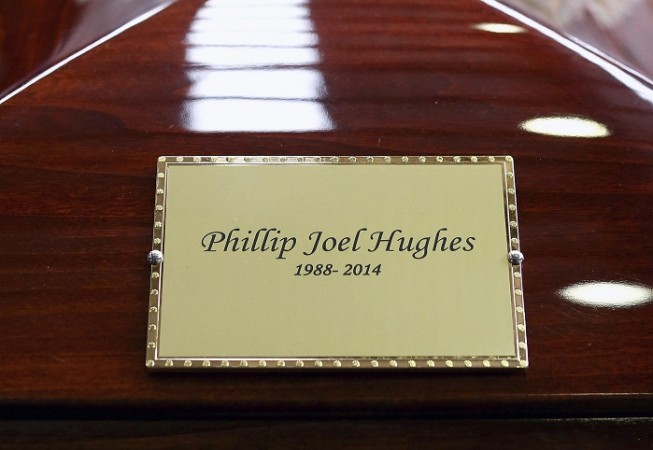 Michael Clarke has shown exceptional poise and class over the last week after the tragic loss of his great friend and Australia teammate Phillip Hughes.
Tributes have poured in left, right and centre for Hughes, who lost his life after being hit by a bouncer last week, but none touched the heart or brought a few million tears to the eye more than Clarke's words.
And the Australia skipper showed his immense class again on Wednesday, delivering a eulogy that left everyone going for their tissues at Phil Hughes funeral in Macksville.
Clarke was fighting his emotions, as he has done all week, while delivering the heartfelt eulogy, and there could not be any greater tribute paid to the farm boy who achieved his dream of playing cricket for his country than the words that came out of his teammate and fellow New South Welshman.
"He left a mark on our game that needs no embellishment," said Clarke in the intensely emotional eulogy. "I don't know about you, but I keep looking for him. I know it's crazy but I expect any minute to take a call from him or to see his face pop around the corner.
"Is this what we call the spirit? If so then his spirit is still with me and I hope it never leaves. I walked to the middle of the SCG on Thursday night ... those same blades of grass beneath my feet where he and I and so many of his mates here today had built partnerships, taken chances and lived out the dreams we painted in our heads as boys.
"I stood there at the wicket, I kneeled down and touched the grass. I swear he was with me, picking me up to my feet to check if I was OK, telling me we just needed to 'dig in, get through to tea,' telling me off for that loose shot I played, chatting about what movie we might watch that night, and then passing on a useless fact about cows.
Clarke also spoke about the Sydney Cricket Ground, the stadium where Hughes was struck by a bouncer which eventually cost him his life.
"His spirit has touched it, and it will forever be a sacred ground for me," added the skipper. "I can feel his presence there and see how he has touched cricket lovers around the world."
Clarke then mentioned the spirit of cricket -- and there probably was no player in the world of cricket who played the game in the right spirit than Hughes – highlighting the tremendous show of support that Hughes and his family have received ever since the "why did it even happen" tragedy.
"Is this what we call the spirit of cricket?" Clarke asked. "From the little girl in Karachi holding a candlelight tribute to masters of the game like Tendulkar, Warne, and Lara, showing their grief to the world, that spirit of cricket is holding us together.
"We feel it in the thrill of a cover drive or taking a screamer at gully -- whether by a 12-year-old boy in Worcester or by Brendon McCullum in Dubai.
"It's in the brilliant 100 or the five-wicket haul, just as significant to the players in a Western Suburbs club game as it is in a Test match. The bonds that lead to cricketers from around the world putting their bats out.
"It saw people who didn't even know Phillip lay flowers at the gates of Lord's. It lead to every cricketing nation on earth to make its own heartfelt tribute. The bonds that saw players old and new to rush to his bedside when they heard the news to say their prayers and farewells. This is what makes our game the greatest game in the world.
"Phillip's spirit, which is now part of our game forever, will act as a custodian for the game we love. We must listen to it, we must cherish it, we must learn from it.
"This is what makes our game the greatest game in the world."
Clarke, who also acted as one of the pallbearers, then finished his eulogy by a typically poignant couple of sentences, which, if Hughes were watching from somewhere up, would have brought a smile to his face as well.
"Phillip's spirit ... will act as a custodian of the game we love," he said. "We must dig in, and get through to tea. And we must play on.
"Rest in peace my little brother, I'll see you out in the middle."
Watch the entire eulogy delivered by Michael Clarke HERE.