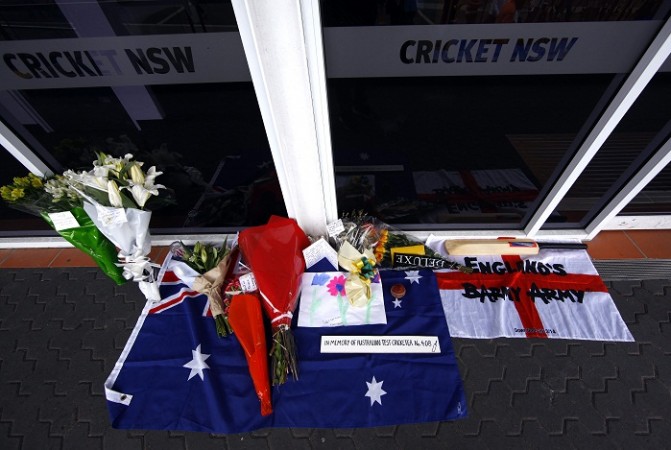 As the players and Cricket Australia contemplate on whether to go ahead with the first Test against India starting next Thursday, Phil Hughes' family would like to see the match go ahead as scheduled in Brisbane.
CA chief James Sutherland, earlier, said a decision had not been taken on whether to play the first Test, with the players still grieving from the tragic loss of their teammate.
However, South Australia Cricket Association CEO Keith Bradshaw revealed that Hughes' family, filled with cricket lovers, believes the Test should be played come next Thursday.
"In regard to the Test match, [and I can] only [speak] in terms of what I've heard, which is that the Hughes family are keen for that to go ahead," said Bradshaw.
Former Australia captain Ian Chappell is also in the Test-match-must-go-ahead camp with the great believing going back to a match situation will help the players cope with their grief better.
"In a strange way I think it'll be best for the players if they play the first Test," Chappell told ESPNCricinfo. "They'll have to go to the practice nets, obviously, and when they're in the practice nets, when they're out on the field playing in the match, at least they'll be concentrating on what they've got to do, how the cricket match is going.
"Because they know that every know that every moment they're off the field, whether they're in the hotel, whether they're out or whether they're in the dressing room, they'll be thinking of only one thing and that'll be Phillip Hughes.
"And so I think to get their mind off of that and to realise that as hard as it might seem, life has to go on, I think that's the best way.
"They're cricketers. Playing cricket is probably the best way for them to get back into that frame of mind that life has to go on."
It will be a strange feeling indeed when play does eventually resume on the cricket field, be that with the first Test on Thursday or later. And the most scary and wary of moments will be when the first bouncer is delivered in that Test match.
Chappell thinks the batsmen will find it easier to play the bouncer – Hughes lost his life after being struck by a bouncer in a Sheffield Shield match – with the bowlers probably finding it more difficult to fire in one.
"I'm sure the first bowler who bowls a bouncer, it won't be the normal intent there," added Chappell. "They'll be bowling it thinking I've got to bowl a bouncer, but I hope like hell it doesn't get up very high, I hope like hell it doesn't hit someone.
"And after a couple, they'll sort of get back into the swing of it.
"Batsmen -- it's probably a bit easier for the batsmen, strange as that may seem. Because they're not going to be thinking about getting hit, they're just going to be thinking about how they normally play a bouncer, whether they try to hook it or whether they avoid it, whatever they do, that's what will be on their minds.
"It's probably going to be tougher for the bowlers in a strange way than it will be for the batsmen."