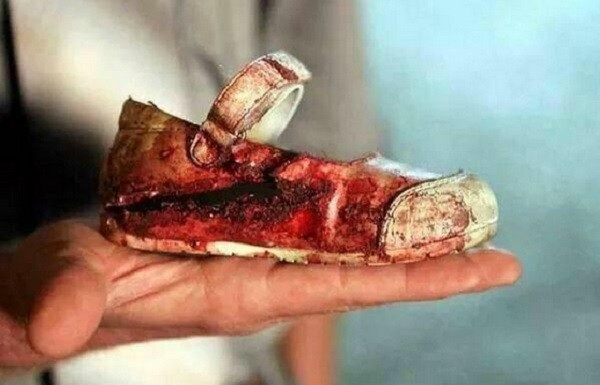 A heart-wrenching image of a bloodied shoe of a 'little girl' widely being shared online following the Peshawar school attacks has been found to be a hoax.
The image is reportedly not from the Peshawar army school, where the Taliban militants killed over 100 school children on Tuesday.
The hoax photo of the bloodied shoe of a child -- believed to belong to a little girl -- was widely shared on Twitter and Facebook under the hashtag #PeshawarAttacks.
A Twitter user @OnlineUzzy along with the hoax picture posted: "Imagine helping your little daughter put on her shoes for school only to find this hours later. #PeshawarAttack."
While another user @KRIHANSH posted a rather angry message along with the bloodied image of the shoes: "#PeshawarAttack .. These shoes wer nt deserved to be polished with Blood u idiots #peshawarmonsters #PrayForPeshawar."
Similarly @chithuvj13, along with the image posted: "just think abt the parent of thz child who puts this shoes on h[er] leg... "
However, it has now been found that the said image is not recent. A report claimed that the images showing the child's bloodied shoe was from the 14 May 2008 terrorist attack.
In the attack several Israelis, including one child and a woman, were injured after a missile fired by Palestinian terrorists inside the Gaza Strip exploded inside the shopping mall in the southern Israeli city of Ashkelon.
A BBC report confirmed that the bloodied shoe image was indeed taken in Ashkelon in May 2008.
In the hours-long siege at the Army Public School and Degree College, at least 145 people -- 132 children, 10 school staff members and three soldiers -- were killed, according to CNN.
The deadly attack inside the military school also left more than 100 injured, many with gunshot wounds.