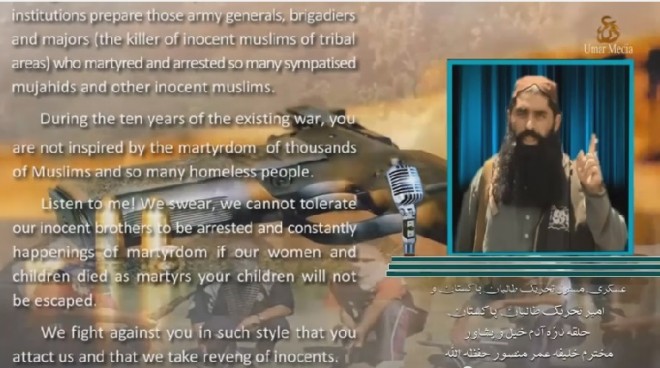 The mastermind of the dastardly school carnage in Peshawar on Tuesday that killed 141 people, including 132 children, is a father of three children himself.
Umar Mansoor, also known as 'Nary', a Pashto word for 'Slim', revealed himself as the mastermind of the Peshawar school attack in a new video published by the Taliban, in which he defended the group's action,
"If our women and children die as martyrs, your children will not escape. We will fight against you in such a style that you attack us and we will take revenge on innocents," the bearded terrorist, said to be close to Mullah Fazlullah, the leader of the Pakistan wing of the Taliban, said in the video.
The Taliban has cited revenge as the reason behind the school attack, which it said was a retaliation against the Pakistan Army's offensive against the militants.
The video identifying Mansoor as the mastermind was posted online on Thursday on a platform frequently used by the Taliban.
Mansoor explained the purpose of targeting the army school, stating that these "institutions prepare those army generals, brigadiers and majors, the killer of innocent Muslims of tribal areas".
He also accused the military of extrajudicial killings of relatives of fighters and said such action has led to the increase in number of people joining the Taliban.
"Arresting our mujahids has increased the number of our faithful, our fighters," he said.
Other members of the Taliban described Mansoor as being "strict in principles" and "popular among juniors."
Mansoor is said to have studied at a school in Islamabad and then attended a madrassa. He then worked with his brothers as a labourer in Karachi before joining the Taliban in 2007, according to Reuters.
One of the Taliban commanders also told Reuters about Mansoor's love for volleyball.
"He is a good volleyball player. Wherever he shifts his office, he puts a volleyball net up," a Taliban member said.