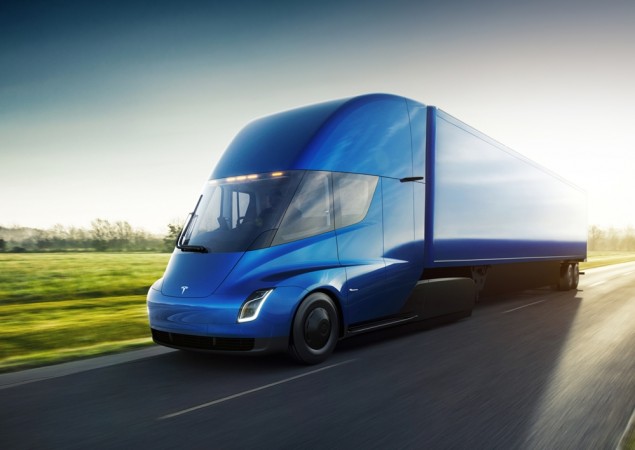 American multinational food, snack, and beverage corporation PepsiCo, Inc. has placed an order for 100 Semi vehicles, the latest electric truck from Tesla Motor. The maker of Mountain Dew soda and Doritos chips is seeking to reduce fuel costs and fleet emissions by turning to EV, a company executive said on Tuesday.
The three digit number of reservation from PepsiCo is the largest order received for the Semi and it is twice the amount of the second highest known reservations from Sysco Corporation.
PepsiCo intends to deploy Tesla Semis for shipments of snack foods and beverages between manufacturing and distribution facilities and direct to retailers within the 800 km range promised by Tesla Chief Executive Elon Musk, reports InsideEVs.
Tesla Motors unveiled the Semi truck with electric powertrain in November this year and it has already garnered a lot of interest from logistics sector. It comes with a host of new features that will make a revolution in the electric commercial vehicles industry.
Without a trailer, the Tesla Semi achieves 0-60 mph (0-96kmph) in five seconds according to the company. The number makes the Semi equal to some of the sports cars' acceleration time.
The Tesla Semi requires no shifting or clutching and its regenerative braking recovers 98 percent of kinetic energy from the battery. Tesla Semi also boasts of Megachargers, a new high-speed DC charging solution, will add about 643km in 30 minutes and can be installed at origin or destination points and along heavily trafficked routes, enabling recharging during loading, unloading, and driver breaks.
In addition, the Tesla Semi features Automatic Emergency Braking, Automatic Lane Keeping, Lane Departure Warning, and event recording. Tesla claims the Semi will enter production in 2019 and bookings are already open at $5,000 (Rs 3.24 lakh) per truck.
Source: Reuters