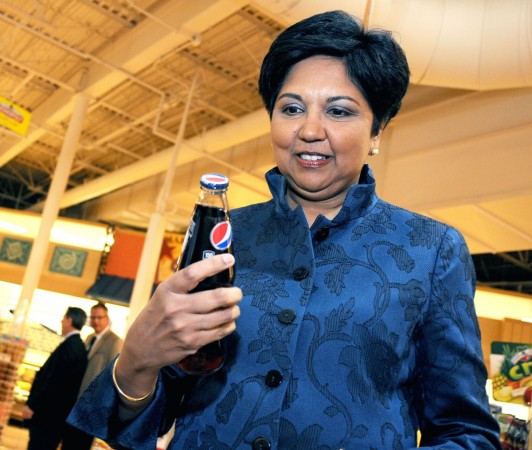 Fortune has ranked PepsiCo's India-born CEO Indra Nooyi, 58, as the third most-powerful businesswoman of 2014. Nooyi is the only Indian-origin woman in the 2014 list in which the first and the second positions were held by IBM CEO Ginni Rometty and Mary Barra, CEO General Motors, respectively.
Indra Nooyi is the chairman and chief executive officer of PepsiCo. The company has 22 brands that have generated revenues over $1 billion each in annual retail sales. Its main products are Quaker, Tropicana, Gatorade, Frito-Lay and Pepsi Cola.
Despite global reduction of consumption of sugary drinks, the company's shares soared in 2013. Last year, PepsiCo products accounted for nine of the top 50 new food and beverages in USA and other nations.
"Products launched in the past three years now make up 9% of revenue–which totalled $66.4 billion in 2013" Fortune said.
Indra Nooyi:
Born in Tamil Nadu, India, Indra Krishnamurthy Nooyi is an American business executive who has been consistently ranked among the world's 100 most powerful women.
Nooyi holds a B.S degree from Madras Christian College and an MBA from Indian Institute of Management, Calcutta, besides a Master in Public and Private Management from Yale University.
She began her career in India as a product manager for Johnson & Johnson and a Mettur Beardsell, a textile firm. Between 1986 and 1990 she worked for Motorola, where she was the vice-president and director of Corporate Strategy Planning.
Before joining PepsiCo in 1994, Nooyi spent four years as Senior Vice President of Strategy and Strategic Marketing for Asea Brown Boveri, a Zurich-based industrials company. After joining PepsiCo, she was initially given the role of President and Chief Financial Officer.
Besides that, Nooyi also serves as a member of the boards of US-China Business Council, US-India Business Council, the Consumer Goods Forum, Catalyst, Lincoln Center for the Performing Arts and Tsinghua University.
List of Top ten most powerful businesswomen in 2014: