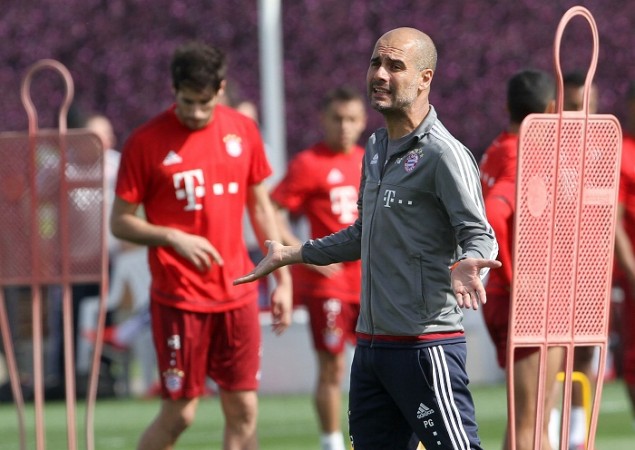 Pep Guardiola would prefer to be based in London when he makes his move to the English Premier League, with the current Bayern Munich manager preferring Arsenal over Chelsea.
Guardiola has been heavily linked with the two Manchester clubs, with Man City reportedly on the brink of agreeing a deal with the former Barcelona boss. Manchester United were recently reported to have held talks with Guardiola over succeeding Louis Van Gaal in the summer, while Chelsea remain keen on the Spaniard.
However, Arsenal remain the most tantalising destination for Guardiola, according to the Daily Star. Several reports from various sources have mentioned Arsenal as Guardiola's preferred club in England, but the fact that Arsene Wenger still has a year remaining on his contract after the end of this season has made that particular move unlikely.
With Wenger keen to see his latest Arsenal rebuild bear fruit, as the North London side compete for the Premier League title this season, it is unlikely that the Frenchman will step down in the summer to make way for Guardiola.
Former Arsenal striker and club legend Ian Wright concurs, even if he believes Guardiola would be the perfect fit for the club, with the Englishman also hopeful Guardiola will be able to bring Lionel Messi to the Emirates.
"[I] absolutely [see Guardiola joining Arsenal. But only when Arsene Wenger decides that he wants to leave," Wright told Breathesport.
"I sat down with Wenger in Brazil a few years ago and he explained why he's struggled in the past and what his plans were. If he wants to stay, then he's the man, and I'll back him.
"Can I see Guardiola at Arsenal? He's a big fan of the club and the way that Arsenal play, so he'd be a great fit. But it would have to be in a few years, as you'd imagine that a club will snap him up in the summer.
"I wouldn't mind him bringing [Lionel] Messi to the Emirates, though."