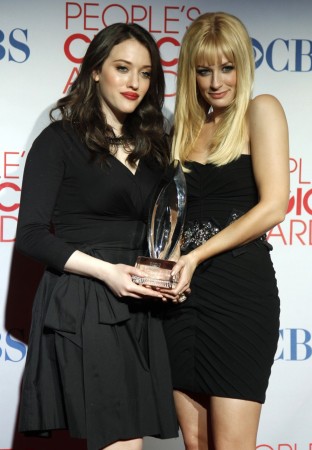 The first award show of the year - the 40th Annual People's Choice Awards - will be held in Los Angeles on Wednesday. The award ceremony, where the winner is declared on the basis of fans' votes, will be broadcast live on CBS Television network on 8 January at 9 pm EST (IST 7.30 am, 9 January).
To watch the live streaming of the award show click here. Also, Ustream is providing live coverage of the event.
For more updates on the award show, check the official Facebook and Twitter pages.
The show will be hosted by "2 Broke Girls" stars Beth Behrs and Kat Dennings. "Kat and Beth are great additions to our People's Choice family and we are excited to have them host the show," said People's Choice Awards Executive Producer Mark Burnett in a statement. "Their energy and charisma are a perfect fit for our audience."
Brad Paisley, Sara Bareilles and OneRepublic are expected to perform live on the night.
The People's Choice Awards also announced on Tuesday the list of celebrities who are set to attend the show. Among them are: Robert Downey Jr., Melissa McCarthy and The Walking Dead's Norman Reedus.
Other celebs that are expected to attend the award show are:
Drew Barrymore
Nina Dobrev
Robert Downey Jr.
Zac Efron
Anna Faris
Sarah Michelle Gellar
Sean Hayes
Allison Janney
Michael B. Jordan
Queen Latifah
Juliana Marguiles
Melissa McCarthy
Shemar Moore
Norman Reedus
Ian Somerhalder
Britney Spears
Miles Teller
Justin Timberlake
Allison Williams
The cast of The Big Bang Theory