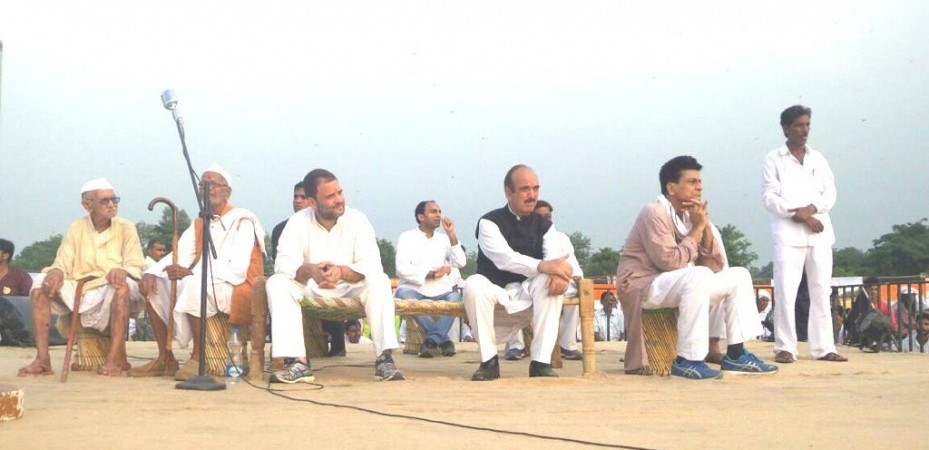 A little more than a week after people attending a Khat Sabha led by Congress Vice-President Rahul Gandhi fled with the wooden four-legged cots in Deoria, there was a re-run of sorts as people made away with the khatiyas again. This time it was in Mirzapur, wherein people claimed they were told by a local Congress leader — who they identified by name — that they would get cots if they attended.
Rahul Gandhi is currently on a Kisan Yatra — a farmers' rally — across Uttar Pradesh in an attempt to reinvigorate the local Congress workers in the run-up to the 2017 Uttar Pradesh Assembly elections. UP is a politically important state, where the Congress has lost its way as the landscape is dominated by regional parties like the Mulayam Singh Yadav-led Samajwadi Party and the Mayawati-led Bahujan Samaj Party.
Wednesday's incident mirrored the one from Tuesday last week when people had made away with cots brought to the Rudrapur ground of Deoria on rent. Each cot was rented at a cost of Rs 800-1,000, it was said.
After the incident, the Congress leader had chosen to attack the BJP as well as news outlets over how the incident was presented. Rahul had said back then: "Jab kisan charpai uthata hai use aap chor kehte ho. Aur jab Vijay Mallya Rs. 9,000 crore lekar chala jata hai use defaulter kehte ho." Translation: "When a farmer takes a cot, you call him a thief. And when Vijay Mallya takes away Rs. 9,000 crore, you call him 'defaulter'."
On Wednesday, people reportedly waited only long enough for Rahul Gandhi to finish his speech at the khat sabha before making away with the cots. Visuals from the spot show individuals carrying away cots on their head, and even people joining hands to take away cots.
See how a local is claiming he was told by a regional Congress leader people would get cots if they attended the Khat Sabha, but he didn't. He also says he was promised a shirt if he went to the rally, but he did not get that either. "They just gave us a [Congress] flag," he says.