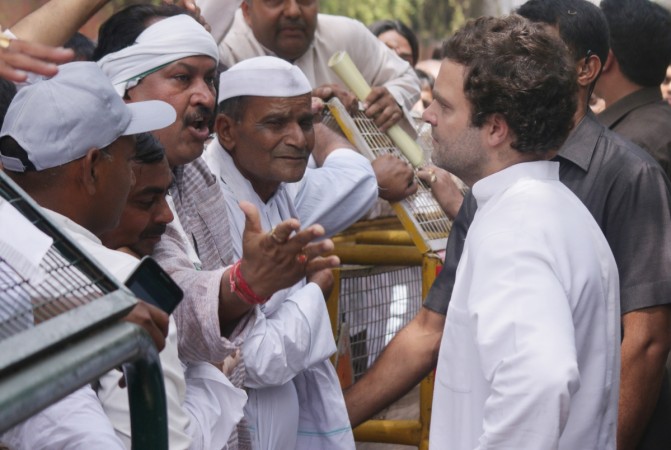 Congress Vice President Rahul Gandhi began his 'Kisan Yatra' (farmer's rally) on Tuesday to woo the local voters to support the Congress. However, his 'khat yatra' (cot march) took an unprecedented dramatic turn when the supporters ran away with their seats.
After Rahul Gandhi's address to farmers in Deoria, Uttar Pradesh, in a 'khat sabha,' the participants in the rally took the cots from the venue to their homes.
The Rudrapur ground in Deoria, where the rally was held, became a site of commotion when the local supporters, who had come to the venue to attend Gandhi's rally, began fighting over the cots after the rally ended. Many were seen carrying the cots home.
Gandhi, in his speech, offered loan waivers to the farmers in Uttar Pradesh and also a 50 percent reduction in their power tariff. After his speech was over, the farmers were seen fighting among themselves for the seats. The ruckus began when some supporters began picking up the leftovers, like water bottles, after the event. Some of them also manged to take the cots with them, which prompted several others to follow suit.
Around 2,000 wooden cots were reportedly laid out in the Deoria ground to provide seating facility to farmers.
Gandhi's 'Khat Sabha' is part of the Congress party's campaign for the upcoming Uttar Pradesh Assembly elections in 2017. The Congress Vice President has embarked on a farmers' rally to rejuvenate his party cadre in the state and push for a return to power in the politically important state after a 27-year hiatus.