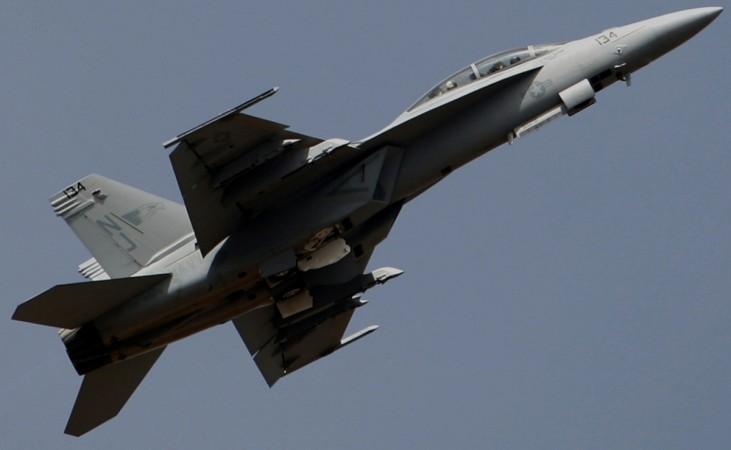 In a goodwill gesture of defence co-operation between India and the U.S., the Pentagon has endorsed a proposal to produce F-18 and F-16s fighter jets in India. The proposal was forwarded by the respective defence giants -- Boeing, which manufactures F-18s, and Lockheed Martin, which manufactures F-16s -- as part of their "Make in India" initiative.
Pentagon's endorsement to have a production line in India for F-18 and F-16 frontline fighter jets, along with the requisite transfer of technology and licences, was communicated during the recent meeting between Defence Minister Manohar Parrikar and U.S. Defence Secretary Ash Carter in Washington D.C., the Hindustan Times reported.
In view of India being designated as a major defence partner of the U.S., an India non-paper on broader export controls was reportedly accepted by the U.S. side.
"Defence Minister Manohar Parrikar's visit to the US had significant outcomes with Pentagon agreeing to work on the Indian non-paper for easier export controls," the news outlet quoted a senior official as saying.
It makes sense for Boeing and Lockheed Martin to open production lines in India as they would have to invest back 50 percent of the total value of the deal. A single piece of the twin engine, twin seater F-18 fighter jets cost about $100 million and the single engine, single seater F-16's cost comes around $70 million.
Lockheed Martin is offering India Block 70 F-16, which is the "newest and most advanced F-16" fighter jet. The F-16 is a 4th Generation multi-role fighter with 28 customers, including India's rival Pakistan, which has around 80 F-16 aircraft.
These moves gain significance as India looks to fill the fast dwindling fighter squadrons. India needs 45 fighter squadrons to counter combined threats from Pakistan and China. Currently, it has only 33 squadrons, where each squadron has about 18-20 jets.
The report noted that having a production line would be a big boost to the nascent private aviation sector in India. However, such technology transfers and license agreements come under the sphere of U.S. commerce and state departments. It cannot see the light of the day until cleared by these departments.
Previous reports had revealed India's eagerness to buy the Predator drone manufactured by General Atomics. India is also looking to buy high-altitude long-duration drones for maritime surveillance. The discussions between the two sides covered both these issues.
Parrikar visited the Boeing facility at Philadelphia where the company is manufacturing 15 heavy duty transport helicopter Chinook for the Indian Air Force (IAF). Boeing will also be building 22 AH-64D Block III Apache Longbow helicopters.
Meanwhile, India has also showed interest in Boeing's KC-46 Pegasus strategic tanker as the country looks to boost its mid-air refuelling tanker fleet. KC-46 Pegasus is a newly developed aircraft that is set to replace U.S. Air Force's older KC-135 Stratotankers. The first set of aircraft are supposed be delivered by August 2017.