Keerthy Suresh's Penguin has become the second big movie to skip the theatrical release and to get premiered on an OTT platform. The multilingual film has seen the light of the day on Amazon Prime at 12 am on Friday, 19 June.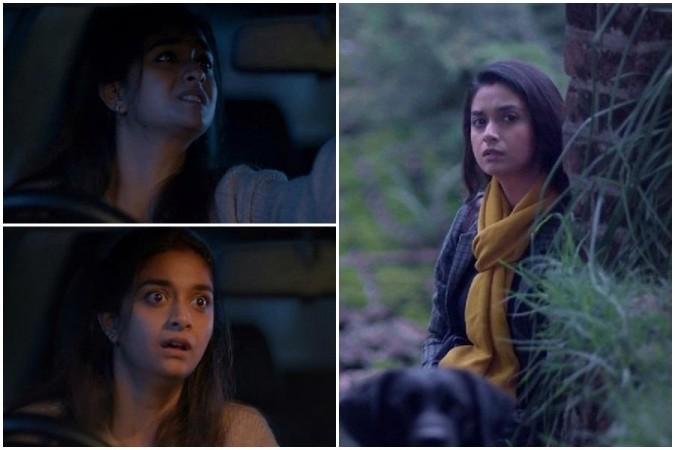 This is a psychological thriller produced by Karthik Subbaraj. He has funded the project with four others and Eashvar Karthic has directed the multilingual film.
Keerthy Suresh plays the lead role in Penguin. Lingaa, Madhampatty Rangaraj, Master Advaith, Nithya Kirubha, Harini and many others are part of the cast. The film has Santhosh Narayanan's music, Kharthik Phalini's music and Anil Krish's editing.
Story:
The film is about a pregnant woman who in in search of her first child, which is missing for six years. This will have impact on Rhythm (Keerthy Suresh)'s married life. Everyone thinks that the boy is dead, but she finds he missing son Ajay (Master Advaith) when she visits the lake where he was believed to be dead. What follows next is the interesting part of the story.
Review:
The reviews for the Keerthy Suresh's movie are already out online. It has met with mixed reviews. Keerthy Suresh's performance has been universally praised. The technical aspects of the movie have also come under appreciation, but the narration has failed to hold the audience's attention. Check out the viewers' response to the film below:
Sreedhar Pillai: #PenguinOnPrime @KeerthyOfficial has come out with a knock out performance and is one reason to watch this emotional thriller. The mood is elevating with @KharthikD visuals shot in misty Kodaikanal along with @santhosh_music haunting background score.
Rajasekar: #Penguin is @KeerthyOfficial 's one-woman show, the talented actress once again proves that if given the right characters, she would shine like a diamond. She aced the body language of the pregnant woman, excelled in both the emotional and adventurous scenes.
However, I wish the film had a better supporting cast. None of them justified the characters given.
@Music_Santhosh's haunting music and Karthik Palani's stunning cinematography contributed more to the film than the supporting actors. #Penguin
Ramesh Bala: #Penguin : Its @KeerthyOfficial 's one-woman show all the way..
She is perfect as the pregnant woman, who goes any length to save her children..
She excels in a physically demanding role..
Music by @Music_Santhosh is another highlight..
#Penguin : The supporting cast is very weak and they let down the movie..
Twists and turns are not convincing..
Watch it for Keerthy's performance!
Kaushik LM: #Penguin 1st half: Quality stuffThumbs up The film carries a very serious, grim tone. The shocking interval block is a big highpoint
This is one of @KeerthyOfficial's very best as an emotional performer
Technically rich; Kodaikanal setting, mysterious visuals &
@Music_Santhosh's score
#Penguin is @KeerthyOfficial's one-woman show as the bold & adventurous pregnant woman who'll go to any lengths to save her first son. Her dog is the other hero in the story
The first half is particularly impressive & promises a lot!
Watch it for gutsy #Keerthy
#PenguinOnPrime
#Penguin : Other support actors (many newcomers) could've been chosen far better, as quite a few of them play the most crucial parts in the story!
The key reveals & twists in the 2nd half don't create the desired impact!
Very Good 1st half. Wish the 2nd half had been far better
sridevi sreedhar: #Penguin is so engaging from the word go! Another brilliant brilliant performance from
@KeerthyOfficial Ok hand in a difficult role.. truly chilling and I thoroughly enjoyed this intelligent thriller @PrimeVideoIN
@EashvarKarthic #PenguinOnPrime @karthiksubbaraj
A2 Studio: #Penguin: BEAST Version of @KeerthyOfficial Red heartFire Excellent mam, whatttta role it was Life time perfomance mam Smiling face with heart-shaped eyes
@Music_Santhosh BGM SparklesFire DOP was very good! Screenplay At its best! One of the best thriller movie Twist was unexpected! Great. Must watch - with HIGH VOLUME Collision symbol
Rathna kumar: #Penguin. A solid suspense thriller with Terrific performance from
@KeerthyOfficial. She stole the thunder from many promising debutantsSmiling face. Interval shot is FireFire. Huge applause to Director @EashvarKarthic, DOP @karthikPalaniDP ,Editor @Anilkrish88 & Producer
@kaarthekeyens
Anjali Smiling: Worst film I was watched in recent tyms Face with rolling eyesFace with rolling eyesFace with rolling eyes Time waste Pensive facePensive facePensive face #Penguin
Trendswood: #Penguin 3.25/5 Watchable Thriller.
Average 1st Half & Very Good Second Half.
Keerthy's Performance Outstanding. Cyrus Fire
SaNa's BGM & Kharthik's DOP Ok hand
Substitute Psycho > Main Psycho.
Climax Could Have Been Better.
Penguin > Ponmagal Vandhal
paapabutterfly: #Penguin - A wannabe psycho-thriller which manages to pull decently till the final act but fails in the climax.
People should come up with something else other than finding ways to justify Psychotic characters. Just make them dark rather than collapsing in end (like Film Hit).