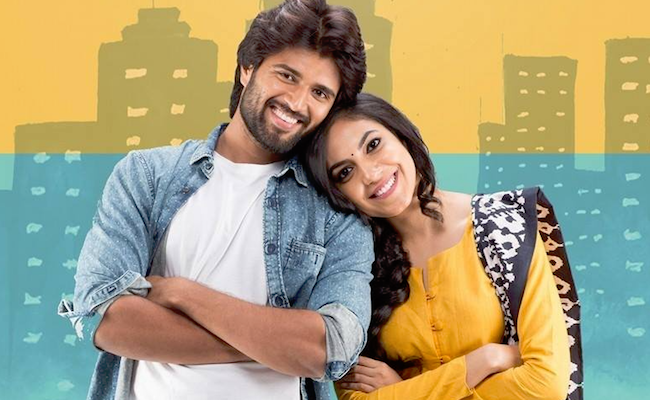 "Pelli Choopulu" has received rave reviews from SS Rajamouli, Nithiin, Rana Daggubati and other Telugu celebs, who have lauded director Tharun Bhascker, Vijay Devarakonda and the cast and crew's work.
Pellichoopulu is a romantic-comedy film, which has been made on a small budget of Rs. 1.35 crore. Daggubati Suresh Babu has brought its distribution rights for Rs. 1.5 crore. Written by Tharun Bhascker and Dhaassyam, the movie features Vijay Deverakonda, Nandhu and Ritu Varma in the lead roles. The film has received positive buzz from the film critics and movie buffs.
After hearing the superb word of mouth, a host of celebs from Tollywood took some time off from their busy schedules to watch "Pelli Choopulu." Most of them were impressed with work of the cast and crew of the film. Some of the celebs took to their Twitter accounts to share their verdict on the film and also urged their followers to watch the movie.
We bring to you some celebs' verdict on "Pelli Choopulu" shared on their Twitter accounts:
SS Rajamouli: Enjoyed #Pellichupulu so much..still in the same mood remembering all the beautiful moments from the film. Writing, direction, performances Everything about the film is so engaging. Well done Tharun Bhaskar. That was a great first effort. Both Hero and Heroine are so refreshing to watch. And the friend is so so good. He gave a great line for every guy who is faced with the difficult question of what do you do?? Congrats to the whole team and thanks for giving us a great fun sunday. I just wish it was playing in more screens. It really should...
Nithiin: PELLI CHUPULU an AWESOME film with FAB perfmances frm vijay ritu nandu and all other actors..special applause to friend character,hilarious! Big congraats to the director and production team and D.o.p and to all the technicians who workd for this film!!great job!! PELLI CHUPULU
Rana Daggubati: #Pellichoopulu A really lovely and an endearing film, a story beautifully told by Tarun Baskar. A MUST WATCH!!! #Pellichoopulu A huge congratulations to the lead pair Vijay and Ritu Verma! You guys were magical. A special mention to Darshi and Abhay!! And a huge congratulations to the DoP Nagesh Banell who was my associate when I was shooting Ad films 14years ago!!PROUD OF YOU NAGESH!!
Naga Chaitanya Akkineni: Super start to the week just watched #Pellichoopulu .. A breath of fresh air .. U guys just nailed it ! Big shout to the team
MM Keeravaani: Pellichupulu - interval. Felt like tweeting after a long time. Excellent theme , performances and taking. And superb score. When Chitra 's dad demotivates her in the restaurant, the melodious peace is most unpredictable on Telugu screen. CongratsQUEEN- was the movie that I enjoyed this much watching in recent times
Sumanth: As expected, big congrats to #TharunBhascker & the cast/crew of #PelliChoopulu!
BRAHMAJI: Thank god it wasn't dubbed or remake ..It's pure telugu movie with telugu actors.#Pellichoopulu.beautifull moments..If u miss..it's ur loss
Sharrath Marar: #Pellichoopulu one of the finest films I have seen in recent times.A sheer delight ! @tharunbhascker excels as a Director. Congratulations !
Lakshmi Manchu: Just watched #Pellichoopulu. What a sweet film. Must must see. In theatres now. Go watch. Tell me what you think. Promise, Ull love it. RT
Sudheer Babu: Watched 3 films today....but the film that stands out in atleast the last 100 films I watched is #pelichoopulu
Vamsha Vardhan: #Pellichoopulu exactly month ago ive seen d movie sureshbabu garu chepinatu unforgetable characters trutat @riturv is brilliant n outshined.