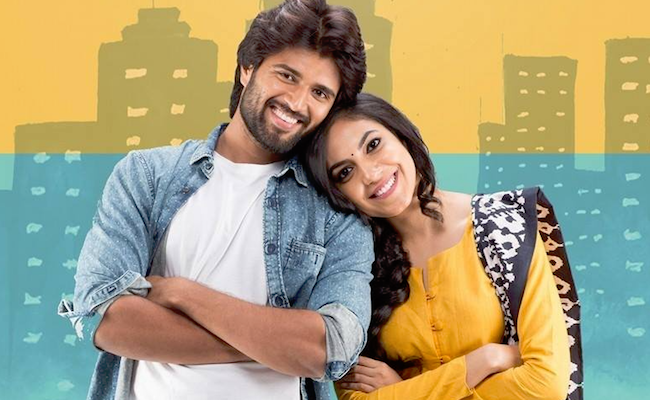 Vijay Devarakonda and Ritu Varma's much-hyped movie "Pelli Choopulu," which was premiered on July 26, couple of days before its release, has got positive reviews and rich ratings from the critics.
"Pelli Choopulu" revolves around the love story of happy-go-lucky guy, Prashanth (Vijay). After seeing his carefree attitude, Prashanth's father decides to get him married to a career-oriented girl, Chitra (Ritu Varma). But Chitra tells him that she is not interested in marriage and she wants to start her own food-truck business. What happens next forms the crux of the story.
The critics say "Pelli Choopulu" is a youthful entertainer, which deals with how parents force their views on their children and how youngsters cope up with the pressure. The movie has a routine story and predictable screenplay. Some comedy scenes keep the audience engaged in the film half, while the second half is high on emotional quotient and drags in parts. The climax is good.
Wonderful characterisation is the big asset of "Pelli Choopulu". Director Tarun Bhaskar has tapped good work from all the actors. Vijay Devarakonda and Ritu Varma have done justice to their roles and their chemistry is the highlight of the movie. Other supporting artistes have also done good jobs.
"Pelli Choopulu" has decent production values and brilliant picturisation and amazing background score. These are the attractions on the technical front. The movie has been rated an average of 3.1 out of 5 stars. We bring some critics' verdict and ratings for the movie. Continue to see them in the "Pelli Choopulu" movie review roundup:
"Pelli Choopulu" is one film which comes as a breath of fresh air in the heavy pollution of commercial cinema. The film has many beautiful moments which one can easily relate to. With this film, Tollywood finds another talent called Tharun Bhaskar as his effortless narration makes things breezy throughout the proceedings. The film is bound to do well in A centres, overseas and especially the younger generation will lap it big time. Finally, all those who want to watch a clean and feel good love story, Pelli Choopulu is one film which should not be missed.
The movie is good and loaded with lot of comedy and real life moments. It is a clean romantic entertainer movie and suitable for all age groups. On the flip side, narration is slow but it is not a big deal.
At a run time of just over two hours, 'Pellichoopulu' feels like a perfect date movie and a trip worth taking. The story is predictable and it wobbles a bit in the second half, but it also filled me with a lot of hope that as long as films continue to be made, there'll be a lot more Tarun Bhasckers, Pellichoopulus.
"Pelli Choopulu" is a film with a clean–U certificate, loads of comedy and real-life moments that occur to us commonly – all packaged into a feel-good film which can be unhesitatingly watched by all age groups. One can sense that another redefining "small" film makes a giant leap in content that will strike a chord with all audiences. It has a good intro, sails smoothly with an interval block and then builds up into a crescendo with pre-climax and climax – without using commercial shortcuts or boring scenes. It has a formula without a formula approach that can set new paradigms of entertainment. Good to see a film keep its promise with the positive buzz drummed up from the day of the teaser release. Recommended for universal family viewing.
The First half is highly entertaining and jovial with good humor. Interval bang is good and in the second half emotions take centre stage with few drags. Climax is good. Tarun Bhaskar entertained with his story though a routine a bit but attracted with screenplay and direction.
It is one cool, contemporary & refreshing 'Pelli Choopulu' we don't get to watch often. This romantic comedy is enjoyable with either friends or family or even both! However, with such adorable characters, setup and refreshing treatment, it could have been a memorable love story, but it rather remains to be an over simplified tale! Still cheers to its innocence, freshness and all the entertainment.