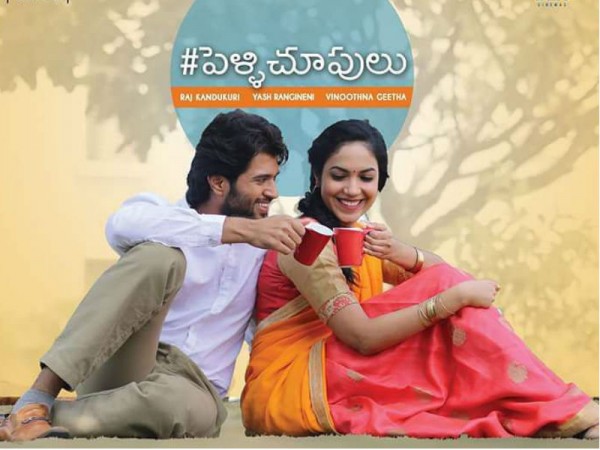 Director Tarun Bhaskar's Telugu movie "Pelli Choopulu," featuring Vijay Devarakonda and Ritu Varma in the lead roles, has received positive reviews from the audience, who describe it has a beautiful entertainer.
"Pelli Choopulu" is a romantic comedy entertainer. Director Tarun Bhaskar has written the story and screenplay of the movie, which revolves around a happy-go-lucky boy named Prashanth (Vijay), who aims to become a chef. His father, who is afraid of his carefree attitude, decides to get him married a career-oriented girl Chitra (Ritu Varma).
But Chitra is not interested in getting married and tells Prashanth that she wants to start a food truck business. Prashanth finds another girl from a well-to-do family, but the girl's father asks him to start his own business to marry his daughter. What happens next forms the crux of the movie.
The audience says "Pelli Choopulu" does not have a great story, but has an engaging and entertaining screenplay. Some hilarious comedy scenes engage the audience in the first half. The second half is high on sentimental quotient and suffers from slow narration. But it is entertaining as well.
Vijay Devarakonda and Ritu Varma have delivered superb performances and the sparkling chemistry between the two is the highlight in the movie. Other supporting artistes have also done justice to their roles. The film has wonderful production values, and the music and picturisation are the attractions on the technical front.
We bring you some viewers' comments shared on Twitter. Here is the live update of the "Pelli Choopulu" movie view by the audience:
Sushanth Reddy ‏@sushanthreddy
Fantastic first half... I laughed till I cried... Everything was absolutely spot on. #Pellichoopulu Loved #Pellichoopulu !!... So much fun. 2nd half dragged a bit but... There are loads and loads to like. Will be one of the year's best... Terrific cast. Great performances. Lovely music. Colorful camera work. Don't miss this little gem... #Pellichoopulu.
Venkyreviews ‏@venkyreviews
#Pellichoopulu 1st half is a big hit. Hilarious comedy and interesting screenplay are the main plus points. Awesome so far! #Pellichoopulu 2nd half also hit. A little slow but still entertaining. Overall will become a huge hit. Congrats @IamRajKandukuri @riturv
Manikick Reviews ‏@manikick
#PelliChoopulu is a film wid a clean U certificate,loads of comedy&real-life moments dat occur to us.And all packaged well into right places. #Pellichoopulu 1st half passes off neatly wid gud humour. 2nd half slows down & Comedy takes back seat wid sentiment. Emotions r elevated. Another redefining small film strikes with a good content. Recommended to watch this movie in theaters. WORTH WATCHABLE...
A Karma Yogi ‏@AKarmaYogi
#Pellichoopulu is a simple, sweet film with some funny sequences! The lead pair and the supporting cast did a terrific job. Well done guys✌
Gopal krishna ‏@gopalkrishna225
#pellichoopulu movie where we can connect to the scrn as studnt,engg,frnd,fud lover each role will get cnct to smone @riturv @tharunbhascker
Varun Yeggina ‏@Yeggina
#Pellichoopulu is a must watch. Fun and refreshing movie in recent times. Hope we get to see more movies in this genre.
Anirudh Medisetty ‏@AnirudhMedisety
#PelliChoopulu is a fresh breathe of air in Telugu cinema. Everything thing about it is so refreshing! Lovely film! Please watch it.
Eshwar ‏@iKami_Eshwar
#Pellichoopulu ageless rom-com.Brilliant execution wid simple realistic things& superb per4mances from @riturv vijay #Pellichoopulu has more than one segment which excelled & turned this movie into a refreshing rom-com with such class. The opening credits with overlapped dialogues n music is d first thing which i enjoyed in the movie. #Pellichoopulu
Nikhil Kumar ‏@nikvenk
@riturv was cute, contemporary and elegant in her presence and portrayal and thr is always scope fr improvement as an actor. #Pellichoopulu @riturv It is one cool, contemporary & refreshing #Pellichoopulu we don't get to watch often. This romantic comedy is very enjoyable 3.5/5
Srikanth Chidurala ‏@imsrikanth21
@riturv Double Pisa vasul movie, fabulous screen play, fantastic casting crew , once again proved small movies will do magic #Pellichoopulu
Madan mohan reddy ‏@princemahesh04
#Pellichoopulu is refreshing love story&interesting entertainment
Hyderabadi ‏@BeingHyderbadi
#Pellichoopulu Is a well crafted clean entertainer.Neat Performances from all,especially CHITRA @riturv.dir @tharunbhascker has done Fab job
Hari Kiran P ‏@Iharik
Watched @pellichoopulu in the morning show.Loved it ❤❤ #TharunBhascker direction is good shows his experience in short film making. Actors are really good. #Vijay & #Ritu are at their best. #Priyadarshi is awesome loved his comedy timing.Am sure he'll become a good artist very soon.Direction is refreshing.Songs are good n placed timely.Lyrics are catchy. Dialogues are good.Some are really funny especially dialogues by #Koushik.On the whole it's a good entertainer.Thanks to the team for such a good movie. #Pellichoopulu #MyView
Ravi nadipinti ‏@RaviNadipinti
Fresh entertainer,such a pleasant film in resent times.congratulations to whole team #Pellichoopulu
SB ‏@MrSBvoice
Returned from #Pellichoopulu.Cute& fabulously designed movie.Every artist did justice & surely a fabulous team effort. Must watch movie. Can't even imagine anyone as #Chitra than @riturv.Settled performance with cute looks..Vijay performance was awesome& related in many scenes Congratsto @preyadarshi who played a fantastic fun role as hero's friend& remembers me my friend in http://B.Tech Enjoyed alot
PavanKumar Mannem ‏@mpk1988
Simple but Impressive work. Wholly Fun & Entertaining. Tharun Bhaskar will hear for his outstanding #PelliChoopulu Don't miss go 4 it
14 ‏@shasha1495
1st half #Pellichoopulu is insanely HILARIOUSespecially D PRANK videos bit OMGlead actor Vijay n his gang reminds us!Telanagana slang #Pellichoopulu a feel good movie!!it will put a smile on ur face throughout D moviecommendable performance by lead cast n co!WATCH IT The guy(Kaushik)who acted as hero friend is impeccablechar1:what do u do? Kaushik:I am fine #Pellichoopulu
Harish(KV) ‏@Harissh_KV
#Pellichoopulu 1st half completed..Gud and decent Mve ..only A centres will workout
ARYA ‏@ARYA_AFDB
#Pellichoopulu - extravagant story narration, path breaking movie of TFI kudos to the makers 4.5/5
Suresh Kondi ‏@V6_Suresh
Here is my take on #Pellichoopulu.. A Beautiful Rom-Com that entertains you throughout.. Go and Watch..
Hemanth Kumar C R ‏@crhemanth
One last shout out for #Pellichoopulu - A rom-com that made me smile a lot. Releasing in theatres on July 29.
Sangeetha Devi ‏@Sangeetha_Devi
#PelliChoopulu is turning out to be one lovely, lovely film. Mid way through.
Sravan ‏@sravanrox
Dragged 2nd half but decent overall #pellichoopulu
Sundeep ‏@sunny438
Better short film in big screen. Some laughs and emotions #Pellichoopulu first half
Hari Krishna ‏@haripspk18
#Pellichoopulu Bumper Hit..!!!@riturv Good characterizations with awesome story and screenplay..!!
Saee ‏@saeekoundinya
@riturv such a cute rom-com it was, excellent music by #vivek awesome direction by #tharun!!!Must watch #Pellichoopulu for ritu&vijay
Sandeep Ruthala ‏@sandeepBZD
#Pellichoopulu Awesome movie. Great performace by lead pair. Superb direction. No dull moments. Clean hit.
Rajini ‏@RajniSamidi
First half is really good #Pellichoopulu non stop comedy with little twists!! Love the movie and #vijaydevarakonda telangana accent
SUNNY REDDY ‏@SUNNYNANNURI
#Pellichoopulu what a movie laughed whole heartedly after a long time
CineManiac ‏@sreekar08
#Pellichoopulu hilarious... well presented romcom...on par with ala modalaindi...kudos to the lead pair and director...
Mahesh ‏@yourstrulymahi
#Pellichoopulu really awesome movie I loved it. Feel good film. Congrats #Pellichoopulu team
Bucky ☁ ☔ ‏@paramaanandam
#PelliChoopulu movie interval lo pelli, Pre-Climax lo shobanam, Climax lo divorce anta Every frame is extraordinary .. Hero - heroine scenes are very gud Pelli comedy aithe Rofl My rating 5/7
Chandra ‏@d_bob__
#Pellichoopulu would be better considered as an YouTube movie than theatre watch!
KeerthinandanVuppala ‏@vkeerthinandan
Watched amazing movie after long time .. Sensible #PelliChoopulu