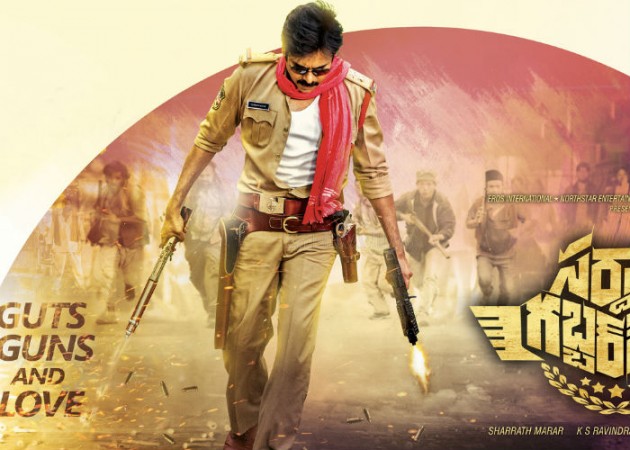 Power Star Pawan Kalyan is not drawing a fixed remuneration for the movie, "Sardaar Gabbar Singh," but he will get his share from the earnings of the film as he is co-producing the movie.
"Sardaar Gabbar Singh" is an action comedy entertainer film, which is touted to be a sequel of the 2012 Telugu film "Gabbar Singh." Pawan Kalyan has written the script for the film, which is being directed by KS Ravindra. Besides, the Power Star is also jointly producing the film with his friend Sharath Marar under their banners Pawan Kalyan Creative Works and Northstar Entertainment Pvt Ltd.
Pawan Kalyan and Sharath Marar are reportedly shelling out Rs 30 crore (not include hero's salary) to make "Sardaar Gabbar Singh." They have already inked the deal on its global distribution rights with Eros International, which has reportedly acquired the rights for a whopping price of Rs 72 crore. The distribution is now busy selling its area-wise rights to local distributors.
There is a great demand for the satellite rights of "Sardaar Gabbar Singh" and some leading TV channels are competing for the rights. The latest reports reveal that a Telugu channel has already struck a deal with the producers and it has bagged the TV rights for a whopping amount of Rs 15 crore, which is said to be the highest price for the satellite rights of a Pawan Kalyan film.
Another Rs 2 crore to Rs 3 crore is likely to come from the sale of music, dubbing and other rights. "Sardaar Gabbar Singh" is expected to earn approximately Rs 90 crore in its pre-release business. The makers of the movie are likely to get 200 percent table profit from the film before its release.
It is known that Pawan Kalyan is handling multiple responsibilities like acting, writing, producing and others for "Sadaar Gabbar Singh." He is reportedly not taking any remuneration for it, rather, he would get a share from the movie's profit. However, the percentage of the share he will get is not known yet. If it is 50 percent, the Power Star is likely to walk away with over Rs 30 crore.