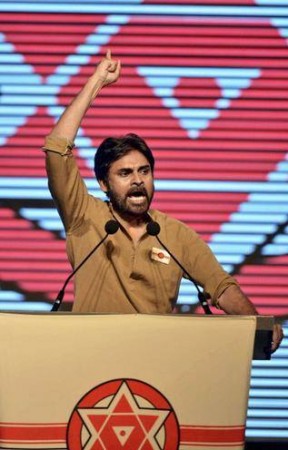 Actor-politician Pawan Kalyan's Jana Sena has been officially registered as a political party by the Election Commission of India.
The party shared this information in a statement on its official Facebook page.
As per the press release, Jana Sena got the approval from the Commission in November. "The Election Commission of India has given registration to the Jana Sena Party as a political party Under Section 29A of the Representation of the People Act,1951 with effect from 24.11.2014 vide Registration Number .56/118/2014/PPS-I dated 28.11.2014," reads the official statement.
The leaders of Jana Sena say that they have already applied for registration for both the states of Andhra Pradesh and Telangana for to contest local body elections. The Commission has set aside objections received to the registration of the party in response to the public notice published in the news papers treating the said objections as unsustainable.
"The Election Commission has directed the party to follow and comply the provisions Under Section 29B and 29C of the Representation of the People Act, 1951 which are applicable to all political parties. The Election Commission has also indicated the facility of availing of Common Symbol under provisions of paragraph 10B of the Symbols (Reservation and Allotment) Order," the statement added.
Jana Sena means people's army in Telugu. Actor Pawan Kalyan submitted an application for registering the party name on 10 March, 2014. He formally launched the party at HICC, Madhapur on 14 March.
It was rumoured that he would field candidates from the party for assembly and Lokha Sabha elections that were held early this year, but had to scrap his plans as the registration process needed time.
Instead of contesting elections, Pawan Kalyan went on to express his support to political parties such as the BJP and TDP. He also campaigned for them.
The two parties won large number seats in assembly and Lokha Sabha elections, and leaders of both the parties - Narendra Modi and Chandrababu Naidu - praised the actor for his contribution to their success.