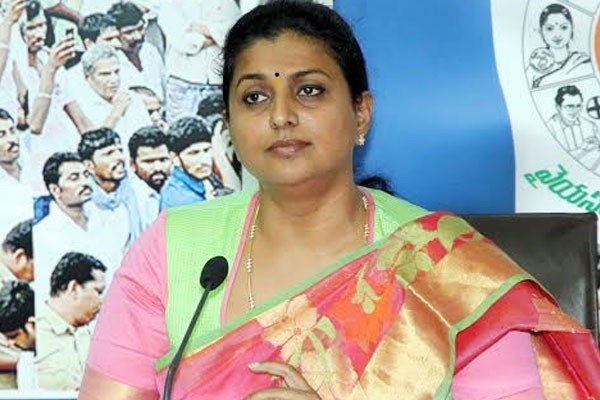 Actress-turned-politician and YSRCP leader Roja got into a verbal war with Telugu film producer Bandla Ganesh over Jana Sena party leader power star Pawan Kalyan's comments on the dynasty politics.
Pawan Kalyan had made some hard-hitting remarks against YSRCP chief YS Jaganmohan Reddy at his Vizag meeting last week. Referring to Jagan, the power star said that a person cannot become the chief minister of a state just because he is the son of a CM and he should have the ability to govern the state.
But the Jana Sena party chief's comment did not go down well with YSRCP, which sent out Roja to counter Pawan Kalyan. She said that there is no Pawan Kalyan without Chiranjeevi. She said that he is a seasoned politician and talks about politics only when he gets free time from his shooting schedules. "He does not understand what is happening around the world," she said.
These arguments about the dynasty politics have been creating ripples in the media for the last few days. Bandla Ganesh, who hogged the limelight with Pawan Kalyan's Gabbar Singh, was present at the panel discussion on this topic on news channel TV9 Telugu on Tuesday, when he lost his cool over Roja's remarks.
Roja, who also took part in the panel discussion through the telephone line, said that dynasty is not just restricted to politics, but film industry too. Everyone is considering it wrong because Jagan is the son of late YS Rajashekhar Reddy. He did not just become a leader by chance. After his father's death, he fought against Sonia Gandhi and created his own party. He toured the Telugu state and helped 65 MLA win.
She added that Jagan has created an image as well a huge amount of followers for himself. "But I wonder why Pawan Kalyan made such unnecessary comments about him. Jagan has never spoken about him. He has his own party and he is fighting to get the problems of the people solved. He is not into time pass politics. Pawan has no moral right to talk about him," she said.
When asked if dynasty is a shortcut to enter politics or films, she said that Chiranjeevi has done hard work to come up in life. "Despite facing competition from NTR, ANR, Krisha and others, he struggled hard and went on to become the no 1 actor. But his brothers, son and other family members are surviving on Chiranjeevi's charisma. What matters first is the introduction, whether they have talent or not matters next," she said.
At this juncture, Bandla Ganesh interrupted her and questioned her about addressing Pawan Kalyan in a singular way. Both Ganesh and Roja lost their cool and started making personal comments. Ganesh went on to say that her entry to YSRCP made Rajashekhar Reddy die. Finally, the anchor interfered and silenced them. Click the below video to see the verbal fight between the two.