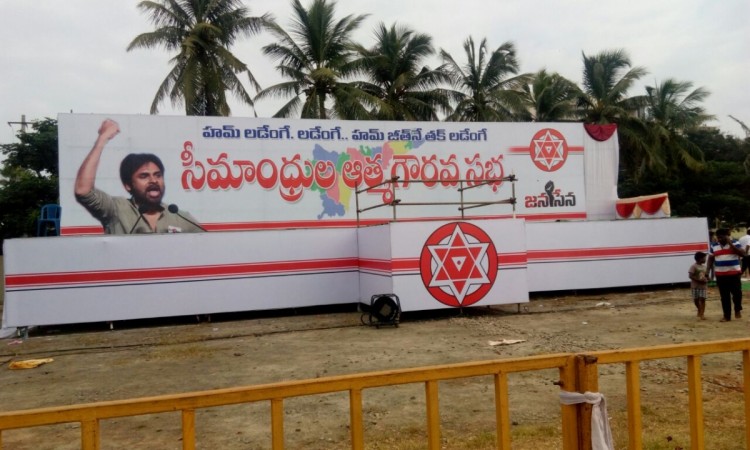 Power Star Pawan Kalyan, the founder of the Jana Sena Party, is addressing a massive public meeting in Kakinda city in Andhra Pradesh on Friday. His Atma Gourava Sabha is being live streamed on YouTube.
Pawan Kalyan fans at Jana Sena Prasthanam | Pawan Kalyan landed Kakinada
Pawan Kalyan is set to address a huge public gathering, which has been called "Seemandhra Atma Gourava Sabha." The meeting, at which the star would apparently demand special status for Andhra Pradesh, is taking place at the JNTU Playground spread across 11.6 acres. Over 75,000 people are expected to attend the gathering.
The Jana Sena party leader's speech at Seemandhra Atma Gourava Sabha would be telecast live on several TV channels. Additionally, the event is also live-streamed on official YouTube channel of TV9 Telugu and iDream News.
Pawan Kalyan was spotted at the Hyderabad airport while he was leaving for Kakinada a day before the event. The actor stayed at hotel GRT Grand in the town and the police had a tough time managing the crowd and they had to resort to mild lathicharge to disperse the crowd. The development let to a tension-like situation near the hotel.
Recently, Pawan Kalyan lashed out at the BJP and TDP leaders for their failure to put pressure on the Centre and get the promised special status to AP. He said he would intensify the fight for the special status to the state and visit all the districts to take it at the grass-root level.
"On Sept. 9, I will address my first meeting at Kakinada, where, in 1998, the BJP passed a resolution seeking division of the state. After addressing public meetings in all districts, I will then think of how to take the fight to the streets," the Jana Sena Party supremo said.
It may be recalled that there was large scale violence erupted when Kapu patriarch Mudragada Padmanabam held a meeting at Tuni on Jan. 30 earlier this year. He is already having lengthy discussions with his core team and, on other hand, his party members in Kakinda are making all arrangements to make it a huge success.