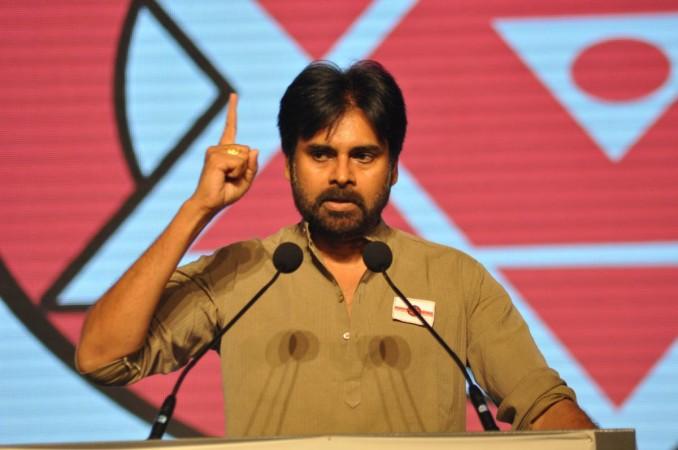 Superstar Mahesh Babu's step-brother and actor Naresh, who believes that Pawan Kalyan would be a perfect leader for Andhra Pradesh, says the Power Star is likely to start the activities of his political party Jana Sena after completing "Gabbar Singh 2".
A lot has been written and spoken about Pawan Kalyan's Jana Sena, and many celebrities including Ram Gopal Varma have praised him and urged him to get into active politics. Actor Naresh is the latest to join the bandwagon and feels that Pawan can fill the vaccum in the state
Naresh, who is quite active on social networking sites, took to Twitter on 29 December and spoke about why Pawan Kalyan should plunge into politics.
"There is some information that P.K Will activate JANA SENA after gabbarsingh 2. Hope that happens. Its the need of the hour," he posted.
"Thr is vaccum in A.P aftr the paraylisis of hand & fan short circuiting. People r luking fr a strong regnl partyJ.S & P.K can fil th gap. 100 or 200 volts current,If an aplliance dosent work.its called a short circuit. Similary in poltics 100 or 200 seats Hv the same effect."
Naresh feels that Jana Sena will be a good party for leaders with vision. "Lots of leaders like tractors a R lying idle. Thy need land 2 plough. Jana sena can provide platfrom. Bt choosing the ritw tractors is imp. Regional parties & national parties both r important. But more important r clean leaders with a vision and commitment. P.K can fit the bill," he wrote.
Meanwhile, Mahesh Babu is another popular actor in Andhra Pradesh after Pawan Kalyan and fans of both the superstars often argue about their supremacy. Naresh appreciated Mahesh's fans for their mature thinking on his views on Pawan Kalyan.
"I applaud mahesh fans fr thr mature thinking. As a political obserever wen I takd abt p.ks role in politics thr wz no out burst excpt a few. V shud accept tht politcal battleground is a different ball game frm film playground. Both r equally Important. DEVELOPMENT, ENTERTAINMENT," he concluded.