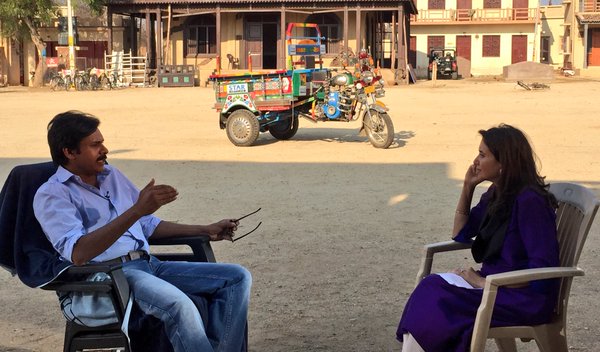 Power Star Pawan Kalyan, who is the number 1 actor of Tollywood, has made a shocking revelation that he will quit acting after starring in three more films and will plunge into politics during the next elections.
A lot has been speculated about Pawan Kalyan's entry into politics ever since he announced his party Jana Sena in March 2014. But the actor has stayed away from contesting any election. Rather he has campaigned for the BJP and the TDP in the recent elections. In an interview with Bollywood critic Anupama Chopra, the Power Star let the cat out of the bag.
Pawan Kalyan says he does not feel insecure about young actors being around and some of whom are churning out big hits. "I never feel jealous or insecure about the young heroes whose films are doing well. I feel contended with what god has given to me. I think everyone should succeed in life. That's what I believe in and also it is nice to have competition," the actor said
"I get irritation at one point of time when people try to do same thing to me. I said in which way I caused you insecurity. There are 365 days and so much business can happen these days. Mine is just only one day. If your product is good, it will work," Pawan Kalyan added.
"I have planned for three films and I am going to give up films after these projects. That's commitment made to myself long back. I don't like to do too many films. If I get into politics, I want to give complete attention to it. From the next election, I am going to do it," Pawan Kalyan told, when quizzed about his plan after the release of "Sardaar Gabbar Singh."
When asked about what will happen to Pawanist (his fans) after he quit films, the actor said (laughingly), "I don't know. May be I am taking a bigger responsibility. I prefer this is real and in films there are lot of other people who can entertain and keep the audience engaged. This is what my heart is saying and it is there in my DNA."
Watch the complete interview of Pawan Kalyan in this video.