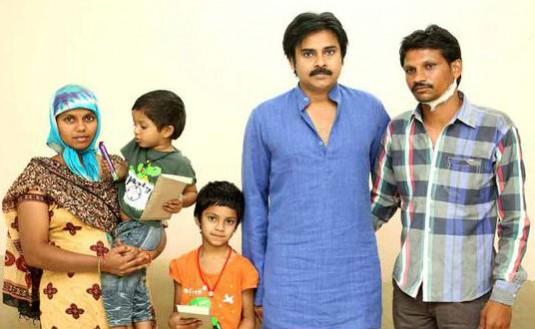 Power Star Pawan Kalyan, who is known for his generous nature, took some time out of his busy schedule to meet his fan, Karuna Sreenivas, who was stabbed at the audio launch of his upcoming movie "Gopala Gopala".
Karuna Srinivas is a member of Pawan Kalyan's Fans Association. He was recently at Shilpakala Vedhika in Hyderabad to attend music release function of "Gopala Gopala" on 4 January. Some unidentified people from Guntur had attacked him and slashed his throat with sharp objects after he declined to give them entry passes for the event.
Sreenivas was immediately rushed to a nearby private hospital for treatment. The doctors, who attended him in the hospital, had reportedly told that he was out of danger. On 5 January, Pawan Kalyan had revealed on Twitter that he would meet him to enquire him about his health condition.
Pawan Kalyan tweeted, "Yesterday's unfortunate incident where one of our fans was attacked at the audio function of 'Gopala Gopala'has disturbed me a lot.. I am going to meet him personally once he gets discharged from the Hospital. I humbly request you all to avoid such incidents in the future. Your safety is my 'PRIORITY'."
After getting discharged from the hospital, Sreenivas reportedly visited Pawan Kalyan's office in Hyderabad and he was accompanied by his wife, son and daughter.
In his brief meeting, Pawan Kalyan gave chocolates to Srinivas' children and spent some time with them. The actor also had a chat with latter's wife. His family was all happy and excited to share some precious moments of their life with the No 1 actor of Tollywood.
Here is the exclusive video featuring Pawan Kalyan's brief meeting with Srinivas and his family. Continue to watch it below.