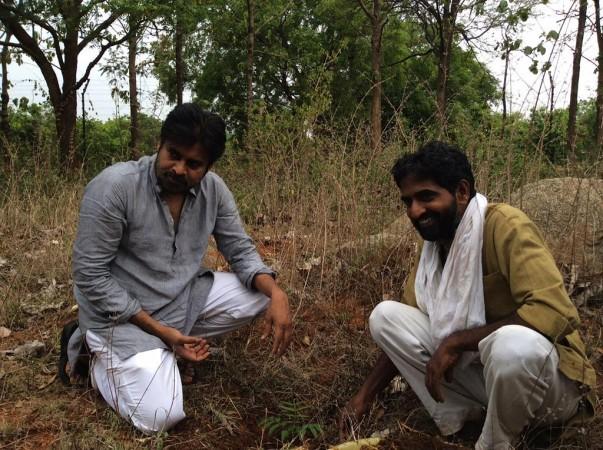 Power Star Pawan Kalyan, who also has interests in farming, has adopted zero budget natural farming (ZBNF) technique to cultivate the land he has in his hometown.
Whenever he gets time, Pawan Kalyan visits his farm and takes keen interest in cultivation and the crops grown on his land. On Tuesday, the actor took some time out from his busy schedule to visit his land, accompanied by Vijay Ram of Society for Awareness and Vision on Environment (SAVE).
On Wednesday morning, Pawan Kalyan, who joined Twitter ahead of release of "Gopala Gopala", took to his Twitter handle to post photos featuring him cultivating the land along with Vijay Ram. Besides, the actor also wrote about the importance of natural farming.
Pawan Kalyan tweeted: "Me with Mr.Vijay Ram of S.A.V.E at my farm,who helps farmers to adopt #Zero Budget Natural Farming of Subash Palekar. Preparing the soil with #Jeevamrutham to grow vegetables at farm in #Subash Palekar's (ZBNF) method."
He added: "In soil preparation with #Sri Vijay Ram(S.A.V.E) in #Subash Palekar's(Zero budget natural farming)method(June 2014) Checking the vegetable garden after adopting '#zero budget natural farming' method. (sic)"
He also wished his fans on the occasion of Sankranti.
For farmers, he had much more than just festival greetings. Pawan Kalyan hoped that this Sankranti brings peace and wipes the tears of farmers all over India. He wrote: "Andhariki Naa'Hrudyapoorvaka 'Sankranthi Subakankshalu'.Raithu kanneeru pettani 'Gramina Bharatham' ravalani asisthu."
Pawan Kalyan released his latest outing "Gopala Gopala" in theatres on 10 January and the movie has turned out to be a money spinner at the box office. He is expected to start shooting of his forthcoming film "Gabbar Singh 2".
Here are the photos of Pawan Kalyan posted on Twitter:
Me with Mr.Vijay Ram of S.A.V.E at my farm,who helps farmers to adopt #Zero Budget Natural Farming of Subash Palekar. pic.twitter.com/GmVGqKK5yW

— Pawan Kalyan (@PawanKalyan) January 14, 2015
Preparing the soil with #Jeevamrutham to grow vegetables at farm in #Subash Palekar's (ZBNF) method. pic.twitter.com/qXm7Qz6CR5 — Pawan Kalyan (@PawanKalyan) January 14, 2015
In soil preparation with #Sri Vijay Ram(S.A.V.E) in #Subash Palekar's(Zero budget natural farming)method(June 2014) pic.twitter.com/h0myetZqOb

— Pawan Kalyan (@PawanKalyan) January 14, 2015
Checking the vegetable garden after adopting '#zero budget natural farming' method. pic.twitter.com/xq2TeW187P — Pawan Kalyan (@PawanKalyan) January 14, 2015
Andhariki Naa'Hrudyapoorvaka 'Sankranthi Subakankshalu'.Raithu kanneeru pettani 'Gramina Bharatham' ravalani asisthu pic.twitter.com/HxuZc3VZPy

— Pawan Kalyan (@PawanKalyan) January 14, 2015