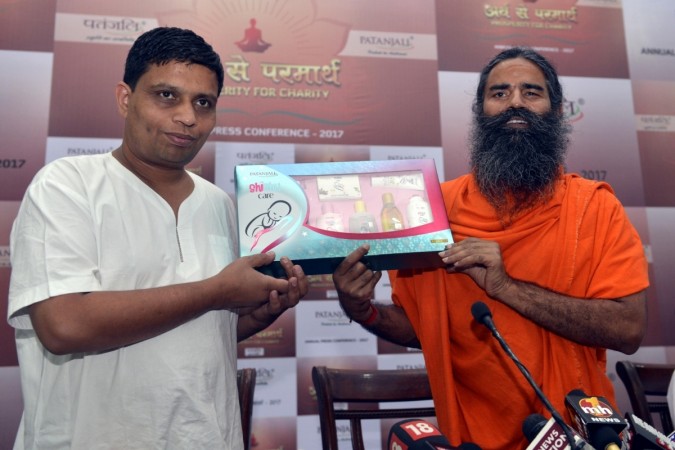 In the worst performance since 2013, homegrown FMCG brand Patanjali Ayurveda has registered a slowdown in sales and profits for the financial year ended March 2018. The reasons attributed to the dip in sales and profits include stiff competition with many rivals companies, mostly multinationals, the introduction of natural and herbal products as well as its own distribution issues post-GST rollout.
Referring to the financial source from research platform Tofler, Economic Times reported that in the FY2018, Patanjali tanked 10 per cent to Rs 8,135 crore as against Rs 9,030 crore in 2016-17. Another provisional data sourced by CARE Ratings shows that Patanjali's net profit fell more than 50 per cent at Rs 529 crore in FY18 from Rs 1,190 crore during the same period a year ago.
The numbers are concerning for Baba Ramdev led Patanjali as this is the worst performance since FY2013. It is to be noted that the Haridwar based company has doubled its annual sales every year from FY13 to FY17.
A report by CARE rating blamed the company's inability to adjust to the changes introduced by the goods and services tax (GST). The report highlighted that "The decline in turnover was primarily because of the company's inability to timely adapt to the GST regime and develop infrastructure and supply chain."
"Further, there was a sharp decline in its profitability margins, with the profit before interest, lease, depreciation and tax (PBILDT) margin declining from 18.7 per cent in FY17 to 11.9 per cent in FY18 on account of increased overheads due to ongoing expansions and majorly due to growing selling and distribution expenses," it further added.
However, some of the other analysts blamed its distribution strategy for the slowdown. They highlighted the company's strategy to have separate distributors for different business verticals such as staples, personal care and biscuits among others which eventually created issues in the supply chain.
An investor note by IIFL Institutional Equities said: "Growth slowdown in Patanjali is a direct result of poor management of trade channels and lack of a coherent advertising strategy. Splitting distributors according to product categories has also complicated retailer servicing."
Moreover, the competitors also regained the lost market share in the recent times which affected Patanjali's sales.