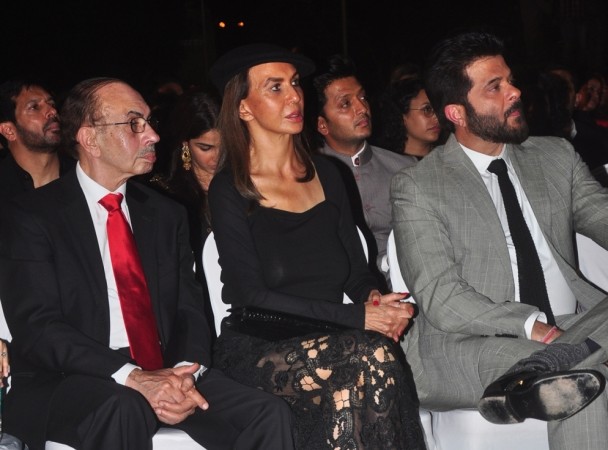 Bollywood celebrities took to Twitter to mourn the death of noted socialite and philanthropist Parmeshwar Godrej, who breathed her last on Monday at Mumbai's Breach Candy Hospital. Parmeshwar, wife Godrej Group chairman Adi Godrej, was 70.
Parmeshwar, who was a regular face in Mumbai's page 3 circuit, was reportedly suffering from a lung disease. A few days ago, Parmeshwar, who was known for her work for spreading AIDS awareness, suffered an infection and the doctors had suspected pneumonia, DNA reported.
As soon as the news spread, celebrities including Farhan Akhtar, Kabir Bedi, Anupam Kher, Madhur Bhandarkar, Shabana Azmi and Abhishek Kapoor took to Twitter to pay condolences.
Here is what Bollywood celebrities posted on Twitter:
Priyanka Chopra: A woman with solid strength integrity and grace..I cannot believe you are not with us any more Parmeshwar Godrej..Condolences to the family
Vivek Oberoi: Deeply saddened to hear about Parmeshwar Godrej #RIP She was a committed crusader against HIV, a philanthropist with a golden heart!
Karan Johar: She is LIFE..will never put a "was" with her name..her energy is infectious..her heart is solid and her aura is forever..I love you Parmesh.
Shekhar Kapur: Few friends would go to the ends of the earth for you in times of need #ParmeshwarGodrej was one of them. RIP. Cherished friendships
Shabana Azmi: Deeply saddened to learn lovely beautiful Parmeshwar Godrej passed away last night at Breach Candy.She was truly special.RIP
Farhan Akhtar: When you wish that some days just didn't happen.. will miss you Parmeshwar. Deepest condolences to the Godrej & Bahl families.
Riya Sen: Saddened to hear bout the demise of #ParmeshwarGodrej , may her beautiful soul R.I.P
Kabir Bedi: Deeply saddened by the passing of Parmeshwar Godrej, dear friend from my early days in advertising. I share her family's grief.
Parveen Dusanj Bedi: The doyenne of Mumbai passes away. A philanthropist & humanitarian - she personified glamour, generosity & kindness RIP Parmeshwar Godrej
Madhur Bhandarkar: Sad to know about the demise of Parmeshwar Godrej. One of the most gracious & down to earth person i knew. You will be missed.#RIP
Abhishek Kapoor: an incredible woman. most gracious, generous and dignified. there is no 1 like her. my heartfelt condolonces to the Godrej and Bahl family
Anupam Kher: #ParmeshwarGodrej was a larger than life lady. She gave style & glamour a new dimension. Her charity work was great. She'll be missed. RIP
Tanuj Garg: So sad to hear about the demise of Parmeshwar Godrej. RIP, beautiful lady.
Farah Khan Ali: Lost a clos Fly friend yestrdy.My childhud yrs wer filld wth hr memories. RIP Parmeshwar Aunty U shll b missed #ParmeshwarGodrej
Suchitra: RiP #ParmeshwarGodrej. Ur spirit ur style ur generosity will be sorely missed
Ashvini Yardi: Shocked & deeply saddened.. So many lovely conversations.. Hard to believe she is no more..Parmeshwar Godrej RIP
Raj Bansal: RIP #ParmeshwarGodrej
Manasi Scott: RIP #ParmeshwarGodrej You were an icon and an inspiration. May you dance with the angels forever more&make heaven a fashionable place.