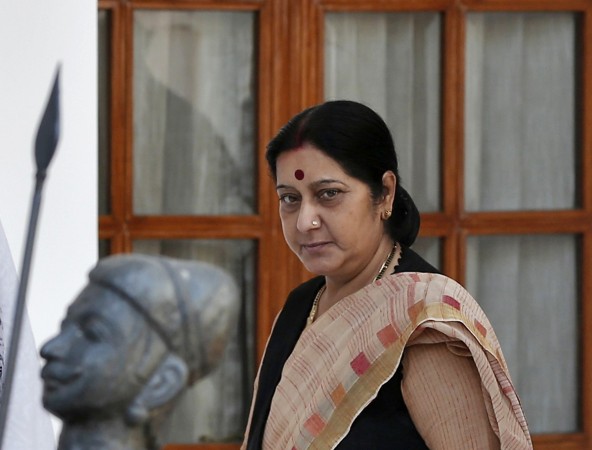 Addressing the Parliament over news report that claimed 39 of the 40 Indians who went missing in Iraq were killed by Islamic State militants, external affairs minister Sushma Swaraj has assured the House that the government has been continuously monitoring intelligence inputs from its sources in the region.
"The Indian nationals are alive and safe," she said.
Swaraj said that the media report lacks proof to support its claim, whereas she has the backing of six of her sources, who have confirmed that the men are all alive. The APB report was based on the version of one Indian – Harjeet – who had reportedly escaped from ISIS' clutches.
However, Swaraj denied accepting Harjeet's claims that 39 Indians have been killed, stating "there are contradictions in his statement," IBNLive cited Swaraj's statement from the Parliament.
When the MPs questioned Swaraj about the whereabouts of the kidnapped Indians, who she claimed to be alive, she said her sources have only confirmed that they are alive; the search is still going on.
The minister said that she received information about their safety on Thursday night from her six sources and decided to carry out a search operation based on the information.
"I would say that the day I get a single, solid evidence to corroborate what Harjeet is saying, I will inform the House, but I am going by what my sources are saying right now," Swaraj said.
"You have two options, either accept his (Harjeet) version and declare them dead or not accept his version and search for them. We opted to keep the search for the missing Indians on. We have contacted all possible helps and country heads during which we have been given written messages from sources that say the Indians are alive," she told the MPs.
Two Bangladeshi nationals – Shafi and Hasan – working for a construction company in Iraq had told ABP News that that they spoke with Harjeet Masih, who claimed that he witnessed the killing of rest of the kidnapped Indians before fleeing.
The ISIS had kidnapped 40 Indian workers on June 11 when they were travelling from Baghdad to Mosul. Of the 40, one Indian managed to escape from ISIS' clutch, the two Bangladeshi workers claimed.