US President Donald Trump's targeting India during his rant on Thursday, June 1, announcing his country's withdrawal from the Paris climate accord is likely to impact New Delhi's relation with Washington which was going upwards during Barack Obama's times.
Trump, who has in the past blamed India for eating up Americans' jobs, lashed out at the latter in this time over issues related to development.
Also read: Paris climate agreement: Decoding Donald Trump's #USExit; is United States retreating because of foreign policy fatigue?
According to the US president, "India makes its participation contingent on receiving billions and billions and billions of dollars in foreign aid from developed countries". He said under the deal, while India could double its coal production by 2020 while China could build several additional coal plants but the US would only face restrictions, resulting in it losing as many as 2.7 million jobs in another eight years.
Also read: Donald Trump announces decision to withdraw from Paris climate deal, targets India and China
The rant against India just ahead of Prime Minister Narendra Modi's visit to the US will make foreign-policy makers in New Delhi apprehensive. Modi had been trying hard to build an all-inclusive relation with the US ever since assuming power. He visited the US four times before completing three years in office and emphasised on establishing a personalised relationship with Obama. He even invited Obama to India's Republic day celebrations in 2015, something which had never happened in the past.
Also read: PM Narendra Modi in Russia: It's foolish to romanticise New Delhi-Moscow relations today; times have changed
But yet, as Modi was talking to Russian President Vladimir Putin trying to reignite the passion in the traditional relation between the two age-old allies, Trump was venting his frustration on India.
Back to the original script?
A Republican president blasts India yet again but not for political ideology
The latest rant by an American president against India has little to do with the political ideology, as it was the case with past Republican leaders. While India's relation with the US started to see a paradigm shift since the days of Narasimha Rao and Bill Clinton, it was during the times of George W Bush, a Republican, when the two countries started to come really closer. Manmohan Singh, too, had played his part in improving relations with Washington and Obama obliged. Modi took the new-found legacy speedily forward till lightning struck in the form of the election of the protectionist Trump.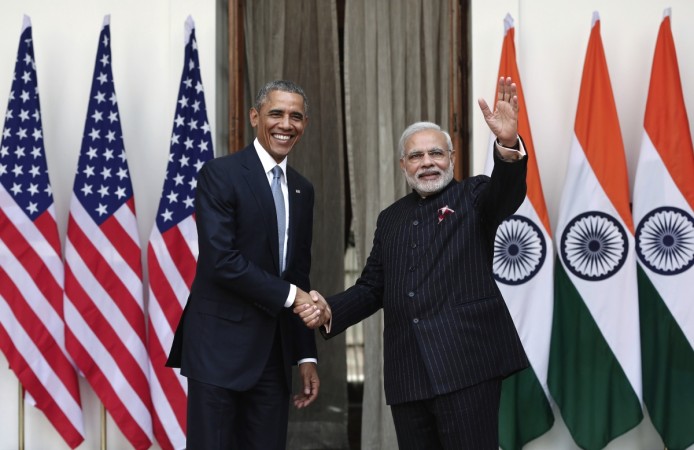 Now, while the USA's exit from the Paris accord gives India a new opportunity to take lead in global affairs, it also creates some uncertainty for its foreign policy orientation. With the Russians cosying up to the Chinese and Pakistanis for geostrategic reasons to challenge the American hegemony, India has a natural option of positioning itself closer to Washington in an exact-reverse pattern of alliances to that of the Cold War period.
Washington's retreat will create security concerns for New Delhi
This proximity is important for India from several perspectives: economic, political, strategic and security. But with Trump deciding to tear apart the established norm of 'democracies befriend democracies' because of his strange hyper-nationalism-mixed-with-personal-prejudice ideology, India, just like Europe, will be in a fix. The Chinese and Pakistanis and the terrorists will not be complaining, however, seeing the relation between two of the world's largest democracies entering a phase of uncertainty.
For US, retreating to pre-World War I isolationism is almost impossible today
Trump's America is so much obsessed with itself that it has completely disregarded the mechanism of the world order which has emerged post 9/11 years. Trump has snubbed America's old and tested allies in all parts of the world, suggesting that the superpower has had enough since the Second World War and now wants to bid goodbye to the complexities of the global politics and return to its pre-World War I isolationism. But it is much easier said than done since the US is irreversibly involved in global affairs today – be it in Afghanistan, West Asia, East Asia or Europe. And then, there is that pressing issue called globalisation.
Trump's theory of victimhood mirrors the general dissatisfaction of a majority of the Americans who have felt their leaderships have betrayed their own people over the decades while catering to the world's well-being.
Foreign policy blunders, loss of properties and lives in quagmires abroad and the rise of the everyday threat from the terrorists have bruised the American psyche somewhere and the domestic is now calling the shots in shaping the USA's neo-isolationist foreign policy. Trump is just a medium of that angry expression.
Obama's China-centric 'Asia pivot' policy had benfitted India; now the US focuses on Iran, India's friend
Geostrategically too, Obama's China-centric Asia policy had made India a natural beneficiary for both countries along with many others in Asia had a common apprehension about Beijing. But now, Trump is concerned more with Iran in Asia which is going to make it tough for India as it has a good relation with Iran and is building its anti-Pakistan geopolitics with Tehran as an important player.
But how does Modi deal with this new reality in the US? It will not be easy for him to come to easy terms with Trump as it was with Obama. The US president has already let his mind known even before his first meeting with PM Modi has taken place which means the latter will be in a spot of bother to even begin things from scratch. He laid the foundation of a new relationship with the US. Can he build on it is the million-dollar question now.