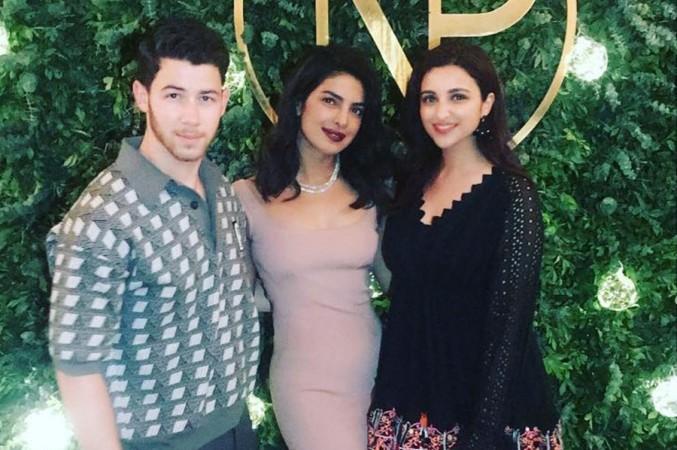 Priyanka Chopra and Nick Jonas may have stunned the world with their hush-hush engagement ceremony in the US but cousin Parineeti Chopra was pretty much aware of what was cooking between the two from the very beginning.
When Priyanka and Nick exchanged engagement rings, Parineeti said that the Quantico star gave a missed call to her at 3 am to share her happiness. She was, in fact, the first family member to know about their relationship.
Speaking to Filmfare about the night Nick proposed to Priyanka, Parineeti said, "The day it happened, I was the first one to get a call. But I was part of their story even before it happened. The day he proposed to her, it was her birthday. I got a missed call from her at 3 am. I knew she was holidaying. I Facetimed her. She showed me the ring and I almost fainted. Both Priyanka and Nick (Jonas) were there on call. They were like we had to tell you first. I started crying on the call. It became all emotional and beautiful."
Parineeti knew that there was someone special in Priyanka's life from the start.
"She called me one day and said she was coming to India with Nick. I said tell me all about it. Initially, I just knew that there was someone special in her life. But when she told me he was coming to India with her, I knew something serious was going on between them. I met him. There were only eight to ten of us that night. I was the only one from the family, rest were Priyanka's friends".
Talking about her own love-life, Parineeti said, "You're going to hate me for this answer. But whenever I'll feel like announcing it, I will. An actor's life is al out there in the open. But there are some things that you want to protect. No one asks me about my parents or brothers. Everyone just wants to know about my boyfriend. Whenever there'll be something nice to say, I'll be the first one to speak about it. I'm not a secretive person at all. It should be nice enough to announce, which I will do with time. We'll cross that bridge in time."