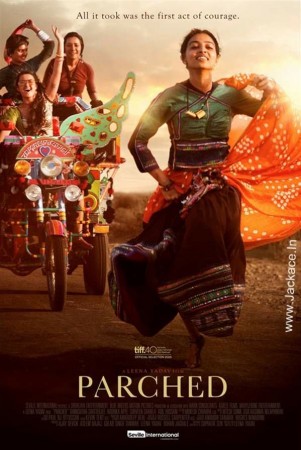 The makers of "Parched" have released the trailer of the drama film produced by Ajay Devgan. Starring Radhika Apte, Surveen Chawla, Tannishtha Chatterjee, Adil Hussain among others, "Parched" is about three women in a village who strive to break through age-old traditions that discriminate women.
The trailer of "Parched" looks interesting and promises to offer a brilliant movie. Produced by Ajay Devgn under his banner Ajay Devgn FFilms, the film will show how three women in a rural part of the country suffer at the hands of unfair societal norms that bind women, both mentally and physically.
While "Parched" will be released on Sept. 23 in India, the film has been showcased at 24 international film festivals and released in seven countries. It is running in its 22nd week in France.
Meanwhile, Twitter users have praised the trailer and are eager to watch the movie. Some, who have already watched the film, are also showering positive words on the micro-blogging site.
Directed by Leena Yadav, "Parched" was much talked about in the recent past when a nude love-making scene between Radhika Apte and Adil Hussain was leaked online. The actor had then expressed strong discontent at the scene being leaked out of the context.
The nude scene is likely to be censored for the Indian audience. According to reports, the film has been granted "A" certificate. Check the trailer below and some of the Twitter response: